Wellhope on the hunt for international investors
Share - WeChat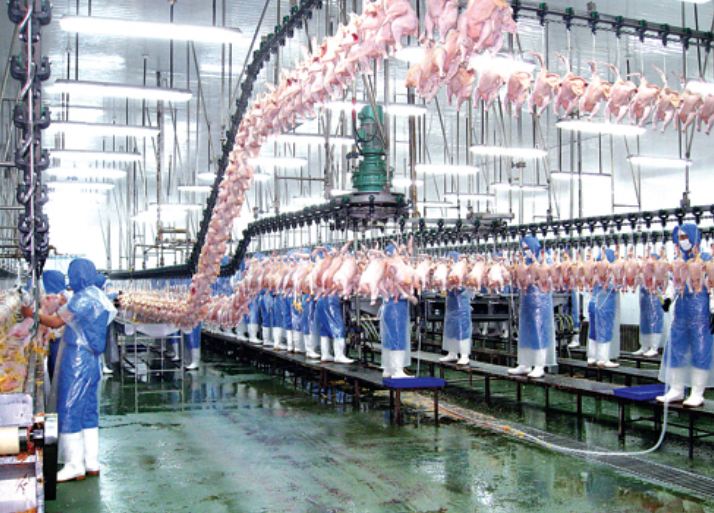 The chicken processing plant of Liaoning Wellhope Agri-Tech Joint Stock Co in Anshan, Liaoning province.
Wellhope Agri-tech Joint Stock Co Ltd, the nation's leading feed and food company, will publish its first English annual report for 2018 in order to attract more international institutional investors.
"Thanks to the central government's opening of capital markets, Wellhope has been listed in the FTSE Russel index. We publish this English report in the hope of attracting more high-quality international capital, which would improve the quality of meat production and jointly promote the progress of China's food industry," said Zhao Xin,Wellhope board secretary.
"Failure is, usually, inevitable in overseas cooperation because of language and culture differences," said Co De Heus, CEO of Royal De Heus, the company's third-largest shareholder.
"We were very fortunate to invest in Wellhope 13 years ago, it was our best investment in China and Asia. I would introduce Wellhope to all my friends who want to invest in China." he said, adding he had just invested another 23 million yuan in Wellhope shares.
Wellhope, located in the granary of Northeast China, is a leading feed and food producer. Its sales revenue reached 15.75 billion yuan, ($2.34 billion) in 2018, an increase of 15 percent over the same period last year. Besides the traditional feed business, its broiler slaughtering and processing sector has gotten a big boost in recent years.
Statistics from the company show the company and its partners have invested 15 broiler slaughtering and processing factories since 2008. And they raised a total of 310 million broilers and slaughtered 455 million last year, accounting for 10 percent of the country's total production.
"We have established the feed-breeding further processing-integrated broiler industry chain over the past decade," said Qiu Jiahui, the vice president and head of integration projects at Wellhope.
Qiu added broiler products like chicken wings and feet have entered China's KFC supply chain and even been exported to Japan.
"We will continue to expand our investment in broiler and pig projects to achieve the goal of 'from feed to food'," said JinWeidong, the board chairman of Wellhope. "As well as the goal of our benchmark company Nestle, the world's leading food company."
The past decades have been golden time in China's food industry, with steady economic growth and rising demand for meat. This is why FTSE Russell chose to invest in a company like Wellhope.
According to the data of China Animal Agriculture Association, China's meat production reached 85.4 million tons in 2016, with annual per-capita consumption of 62 kilograms. This is 40 percent lower than developed countries' 100 kilograms on average.
Despite huge market demand, most of China's slaughtering and meat processing industries are still fledgling. There are more than 20,000 pig-slaughtering enterprises but less than 10 percent of them can reach a five-million-yuan output per year, according to the Zhiyan consulting company. This is far lower than the average of 70 percent in developed economies.
"Most of them are small and medium-sized companies. Their financing, research and development and quality control abilities are all limited. These are just what we are good at," Qiu explained.
With increasing demand for food quality and environmental protection, China's animal husbandry and meat production industry is at the cusp of new era.
"We have attached great importance to food safety and environmental protection since our cooperation in 2006," said Jan Cortenbach, the Asian technology director of Dutch Royal De Heus based at Wellhope.
"Without technology, there will be no success," Jin said. "We are not a traditional animal husbandry company, but a technology-driven company."
In addition to vast market demand and unique technological advantages, Wellhope's financial indicators are all healthy.
Data from the company shows its earnings grew by double digits for five consecutive years, while the proportion of management and sales costs have been continuously reduced at the same time.
Industry experts suggest that compared with the company's performance, Wellhope's stock price was undervalued in both the feed and food industries. With the improvement of capital markets, companies with good performance and long-term development potential like Wellhope will become stars.