Kazakhstan's first president awarded Friendship Medal for contributions
Share - WeChat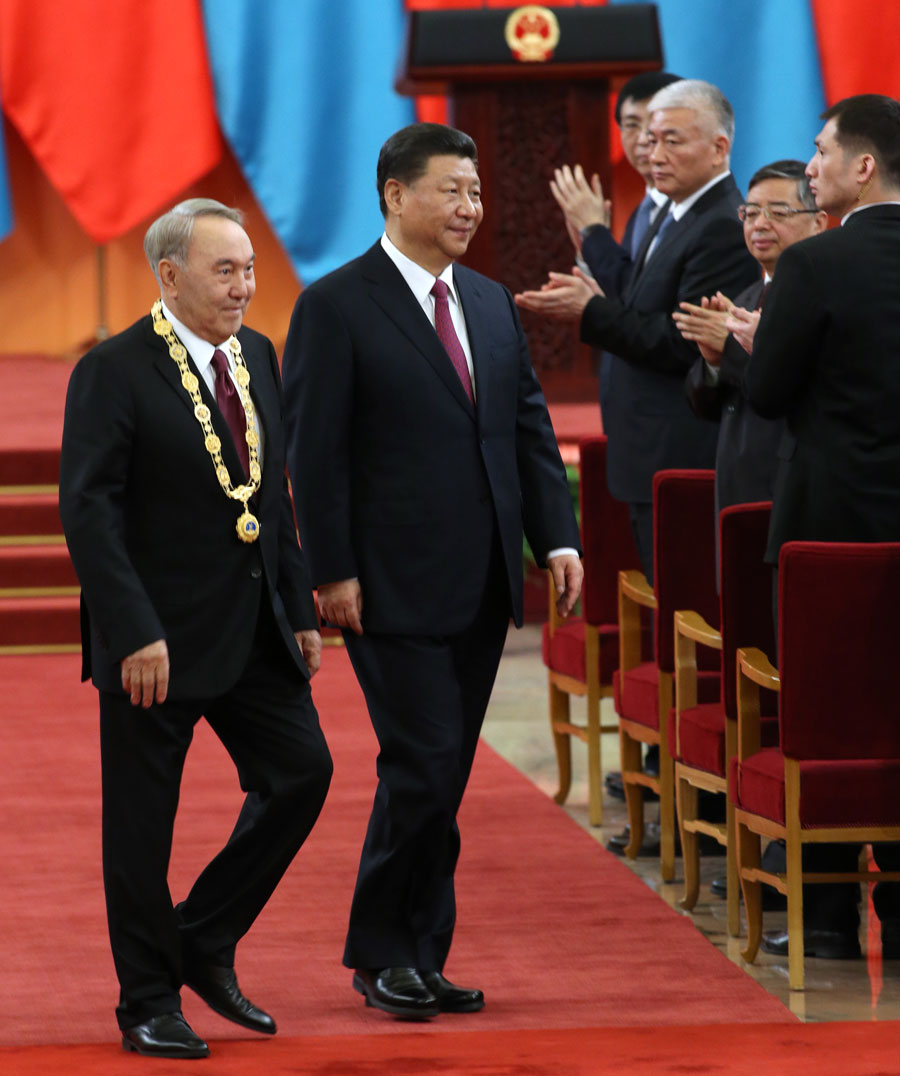 President Xi Jinping presented the Friendship Medal, China's highest honor available to foreigners, to Nursultan Nazarbayev, the first president of Kazakhstan, on Sunday for his long-term commitment to bilateral relations.
Nazarbayev became the second individual to receive the medal, after Russian President Vladimir Putin in June. China established the medal in July 2017.
In his speech at the ceremony in Beijing, Xi lauded Nazarbayev as a politician with international prestige, an old friend and a good friend of the Chinese people.
The first president of the Central Asian nation has been credited with establishing and promoting the China-Kazakhstan comprehensive strategic partnership and ensuring the high-quality performance of bilateral relations together with Chinese leaders.
With his visionary insight, Nazarbayev has also pushed forward the robust development of the Shanghai Cooperation Organization and the Conference on Interaction and Confidence-Building Measures in Asia, and made important contributions to safeguarding regional and international peace and stability, Xi said.
Xi noted that he first made the proposal in Kazakhstan in 2013 to jointly build a Silk Road Economic Belt. Not long after that, the proposal was warmly supported by Nazarbayev and his countrymen.
The two nations, working together within the framework of jointly building the Belt and Road, have also led the way in conducting cooperation in production capacity and furthering alignment in development strategies, and they have carried out a number of major cooperative programs.
Cooperation between the two nations has set an example for leveraging complementary strengths and pursuing win-win outcomes. It has also injected positive impetus into the development of a new type of international relations and the building of a community with a shared future for mankind, Xi said.
Nazarbayev said in his speech that the medal was an unparalleled honor. The friendship between China and Kazakhstan, built on the basis of mutual respect and trust, has become a model for relations between countries, he said.
Before the ceremony, the two leaders met for talks, during which Xi voiced China's firm support to the independence, sovereignty, territorial integrity, social stability and economic growth of Kazakhstan.
He called on the two sides to renew their efforts to ensure good implementation of cooperative plans to align the Silk Road Economic Belt and the Bright Path initiative.
Xi said he looked forward to building close working relations and friendship with President Kassym-Jomart Tokayev, who succeeded Nazarbayev after his resignation last month.
Nazarbayev assured Xi that Kazakhstan will maintain consistent domestic and foreign policies, and the country will remain firmly committed to furthering its comprehensive strategic partnership with China.
Kazakhstan supports China's key proposals in international affairs, and will work together with China to combat the three evil forces of terrorism, separatism and extremism, he added.