The time travelers
Share - WeChat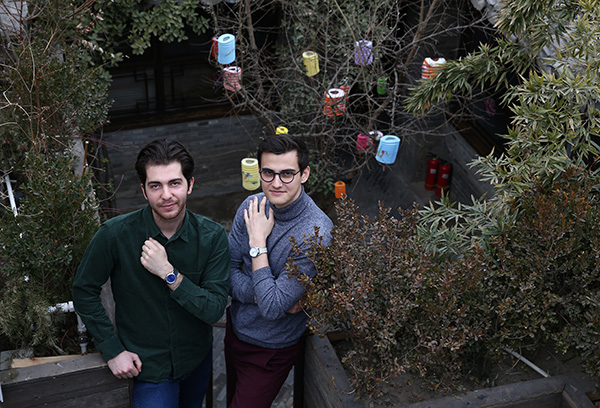 Two young Frenchmen set up their own watch brand, owing to their appreciation of Chinese culture, Wang Kaihao reports.
Young Frenchman Robin Tallendier's love for Chinese watches started when, at the age of 14, he received a birthday gift of a Tianjin-made Seagull chronograph from his parents.
Now aged 23, he didn't expect that serendipity would lead him to become an entrepreneur in 2017 producing his own brand of watches made in China together with his business partner, Wilfred Buiron, who is also from France.
The gift led Tallendier to develop an interest in Chinese timepieces and he gradually built up a collection by learning about them online. Another chance meeting with a watch expert in Beijing in 2014 opened his window of opportunity even wider.
"I bumped into Ron Good while I was visiting a local watch shop in Wangfujing," Tallendier says of his summer vacation trip in 2014 while being a student at the University of Warwick in Britain. Good is a Canadian watch collector who runs an online forum about Chinese watches, and Tallendier has often read the articles.
Good later invited Tallendier to attend a dinner with friends from the China Horologe Association, where he got to know Li Wei, a veteran collector and CHA expert, who then introduced many Chinese watch makers and collectors to Tallendier.
"We were looking to find ways to gain more global recognition for Chinese watches," Li recalls, adding that he was happy to find a foreign teenager who had such a strong interest in Chinese watches, which was probably a lesser-known variety in the West.
"Many Westerners assume that Chinese products are low-quality. And many Chinese watchmakers lacked the confidence to go their own way and blindly followed the Swiss style. But I understand Robin's deep affection for China, and he has his own ideas about culture," Li says.
Li took him to visit many major watchmaking studios all around China. "Little Robin" became a name in the industry that summer. He then wrote many blogs sharing his experiences in China.
In 2015, he returned to Beijing, with a one-year exchange program at Guanghua School of Management at Peking University, one of the most renowned business schools in China. A year later, he became the youngest foreign member of the CHA.
And after visiting more watchmakers to gain an in-depth understanding of the business environment in China, he began to regard watches as something more than just a hobby. With his friend Buiron, his classmate from both Warwick and Peking universities, they co-founded their watchmaking business.
"Watches are intricate products with modern designs," Buiron says.
"We'd been thinking a lot about how to share Chinese culture in a way that is both relatable and relevant to the modern day."
Born in Hong Kong, Buiron, 23, has even deeper roots in Chinese culture. Although he says he did not learn Chinese until he was 13, Chinese culture - whether it be furniture design or ceramics - has always had a strong influence on his life.
Buiron, who holds a master's degree in global affairs from the Schwarzman College at Tsinghua University in Beijing, learned how to view global affairs from a Chinese perspective.
"As someone of 'mixed blood' (culturally), I sometimes feel I'm part of Chinese society," he says, switching to Mandarin. "But I can also detach myself and evaluate culture from a different angle."
Most Popular