Silk shines at Tallinn Fashion Week 2019
Share - WeChat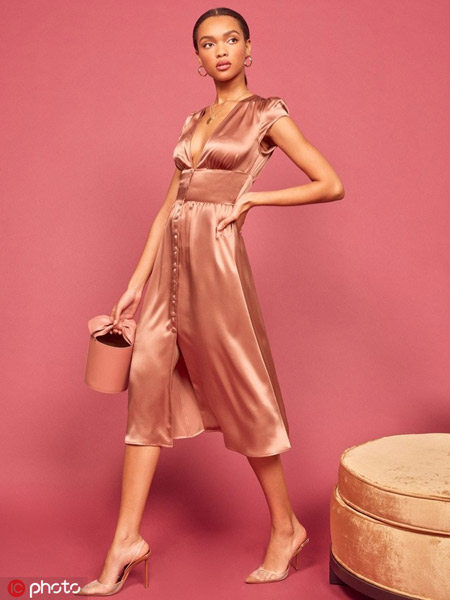 Silk dress, robe and scarf at the ongoing Tallinn Fashion Week 2019 showed the growing popularity of the fabric in Estonia despite of the long winter and short summer in the northern Baltic country.
Unlike wool, cashmere, cotton or linen, silk is not very common in Estonian fashion due to the usually cold or cool weather. But this year at the three-day fashion week, the fabric has a visible presence.
"Silk is just wonderful. It has a place in the fashion industry," said young Estonian designer Liisi Tui after her show, adding that the fabric for all her silk designs come from Italy.
Anu Ling, whose silk designs were paraded on the first day of the Fashion Week on Thursday, uses colorful silk fabrics from India.
"We obviously don't produce any silk in Estonia. Silk as a fabric originated from China. We get to know a lot about the Chinese culture when we combine the material with Estonian design," said Ling, who believes in silk's role as formal dress in the fashion culture.
Grete Ranniko, who used to work at Tallinn design house, told Xinhua that she personally preferred silk dress, which "makes you cooler in warm weather, and warmer in cold weather," although it's relatively pricer.
Designer Eve Hanson uses mainly cotton and linen fabrics for her designs. But she believes that silk has an important role in the fashion industry, and expects to experiment with the material in her future designs.
From Thursday to Saturday, Tallinn Fashion Week 2019 presents three evening shows of around 20 Estonian brands, with the final show to be staged in Tartu, Estonia's second largest city.
Organized by the Estonian Fashion Council since 2007, Tallinn Fashion Week serves as a dialogue with fashion consumers by bringing awareness on design, promoting cooperation between different design areas, and showing the latest trends in the Estonian fashion industry.
Most Popular