The time travelers
Share - WeChat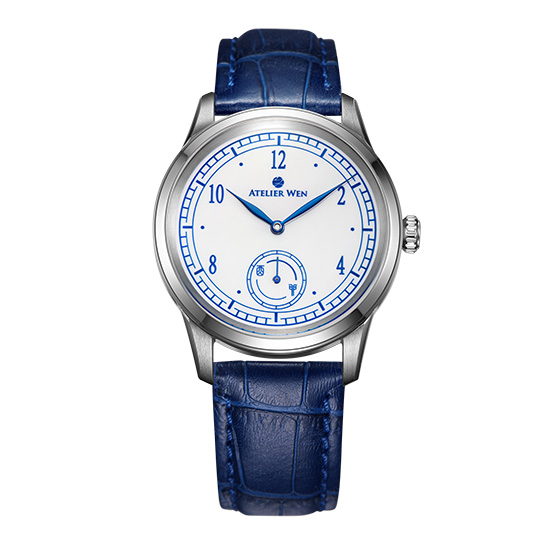 Hobby-turned-business
The duo started their watch brand Atelier Wen in Hong Kong in 2017. Combining the French word for "studio" with the Chinese word for "culture", the team aims to create a new brand that promotes traditional Chinese culture worldwide.
Cooperating with designers from the Beijing Institute of Fashion Technology, they developed their ideas from sketches into blueprints, before building prototypes. As the key components in watches, the mechanical movements were made by Peacock, a manufacturer based in Dandong, Northeast China's Liaoning province. Their factory was chosen over Swiss ones to fit in with their made-in-China ethos, while an assembly company in Shenzhen, South China's Guangdong province, completed the watches.
The first two models of their watches to enter into production, were given poetic Chinese names, Ji ("sunshine after rainfall or snowfall") and Hao ("white splendor without blemish").
Buiron explains that their designs are a mix of classical Chinese elements. The porcelain dials borrow from the typical blue-and-white patterns seen in Yuan Dynasty (1271-1368) ceramics.
Some of the scales are written in Chinese characters using dizhi, the ancient time measurement system that indicates sunrise and sunset, and Taoist bagua symbols. Images of kunpeng, a giant bird that transformed from a fish in Chinese mythology, are etched onto the backs of the watches.
"They reflect the ancient Chinese people's attitudes to cosmology and astronomy," he says. "Tradition comes from the past, but it doesn't only belong to the past."
And the simple patterns they chose are popular among young people today, Buiron says.
"We want to make people realize the quality of these inventive products are from China," he says.
In November, they received their first investment for mass production through crowdfunding, and has raised about $106,360 so far. However, their bold move to promote Chinese watches overseas did not initially impress local manufacturers.
"The Chinese watchmakers considered it an impossible task to promote Chinese watches overseas because they themselves had spent a lot of time developing complex marketing plans for international expansion, but they usually failed," Li says.
When it comes to promoting Chinese culture overseas, Li says people tend to overthink the complexity of the task.
"They often include too many elements in one product and it confuses foreign customers," Li says.
"We can use some simple signals to knock on the door first, as Robin and Wilfred are doing, and gradually grow things from there."
Most Popular