Consultant wants more mothers to breastfeed their newborns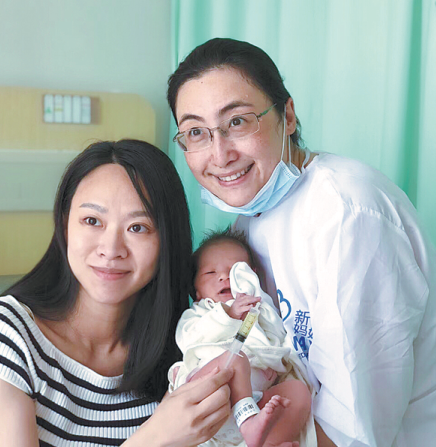 As one of China's first internationally certified lactation consultants, Feng Yue often comes across absurd infant care scenarios and the lack of awareness that new mothers have about breastfeeding.
"In particular, these absurd scenarios often happen to highly educated mothers," she said.
Feng, a co-founder of New Way Breastfeeding Care, has helped some 6,000 new mothers in China, including a number of Olympic gold medalists and film stars, with lactation in the last seven years.
"I, myself, was such a case," she said. "It was the enormous pain that I felt from a strong and hard hand massage by a nanny who had no professional training in massaging the breast for milk 10 years ago that made me determined to seek a career in this sector."
In the first few days after giving birth to her son in September 2008, Feng said her nanny massaged her incorrectly, leading to blocked lactiferous ducts.
She had to undergo breast surgery to completely unblock the ducts.
Those painful experiences prompted Feng to quit her job at a joint venture and start acquiring professional knowledge about breastfeeding. She has been a volunteer helping new mothers since 2009.
She said some mothers were cheated by masseuses who told them that they needed to be massaged more than 100 times to sustain their breast milk.
Not only did the new mothers spend a lot of money on such useless massages, but some of the massages also caused breast-related health complications.
Feng said increasing Chinese women's knowledge about breastfeeding and providing more psychological support to them are crucial.
Breastfeeding has been proved to help newborns develop intelligence and healthy bodies, and help reduce the mental stress of new mothers. However, Feng said Chinese mothers are more interested in buying imported milk powder.
Statistics from the National Health Commission indicate that only 29.2 percent of mothers in China provide pure breast milk to one-to six-month-old infants, while the figure overseas is 40 percent.
Statistics from a Sohu report last year show that China has fewer than 400 international board certified lactation consultants, or IBCLCs, indicating that many breast massage professionals and nannies have not been well trained.
Some may only have local training certificates, but many in suburban areas have no certification at all.
Currently, Chinese lactation professionals can only take the IBCLC examination in Taiwan or in the United States.
"To a certain extent, all these circumstances have led to false breastfeeding methods, and a low breast milk rate," Feng said.
To her delight, more Chinese celebrities have joined campaigns to raise awareness of breastfeeding in recent years.
Thanks to her professional techniques, Feng has helped some 20 Olympic medalists and world champions, including figure skater Shen Xue, synchronized swimmer Zhang Xiaohuan and gymnast Zhang Nan, and film stars such as Jiang Qinqin, to breastfeed their babies. These public figures have vowed to publicly support breastfeeding education for Chinese women.
Feng plans to offer more e-learning courses for new mothers and professionals in the sector, and also introduce the IBCLC examination to the Chinese mainland.