Harnessing the power of digital technology
Share - WeChat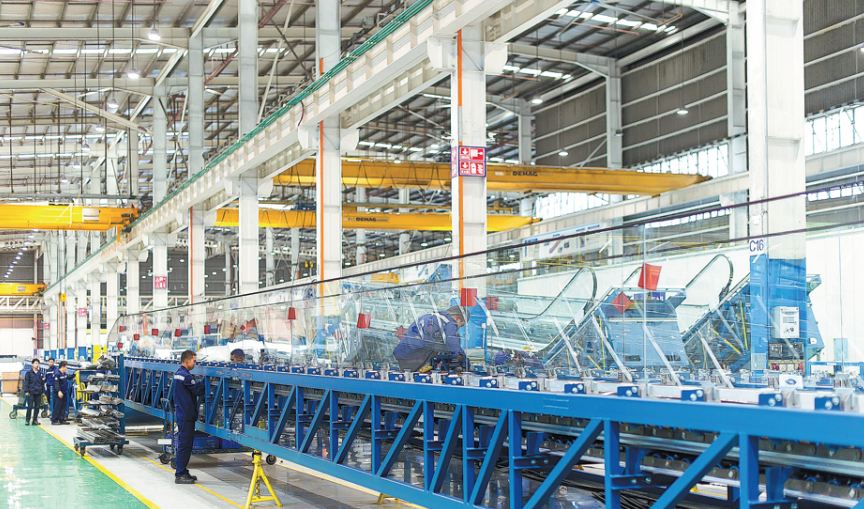 Elevator maker Otis China has increased R&D investment to accelerate the development of innovative products
What progress has China made in streamlining government functions to raise efficiency?
We have seen China's determination and efforts to raise efficiency in recent years, especially in streamlining administration and delegating powers to optimize the business environment. Eliminating dispensable approvals, reducing the time needed for reviewing project applications, easing previous investment approval procedures and improving access to government services by setting up more e-platforms are all practical examples. Most recently, the reform of special equipment regulations is a good example. In addition, China is acting to further cut taxes and fees. VAT reduction in 2018 benefited both manufacturers and customers. I have noticed that China plans to lower more taxes and fees in the manufacturing field and further open up this sector in 2019.
These significant changes have demonstrated China's commitment to relieve businesses' burdens, ease market access and encourage investment by removing administrative obstacles and create a market of fair competition.
How has ongoing supply-side reform changed the nation's economic growth and your company's business in China?
As the ongoing supply-side reform carries forward, tertiary industry keeps developing and technological innovation accelerates. The focus of China's economy is shifting from high growth to high quality, and reforms provide a new momentum for growth. Manufacturing and services, as indispensable parts of the country's economy, are also transforming to promote high-end products and technologies.
For Otis, we also benefit from supply-side reform as it is setting the demand and direction for the application of intelligent technology. In the past two years, Otis has embarked on a major digital transformation and smart manufacturing.
What's your view of China's policy on foreign enterprises and foreign investment? How can the country further improve its business environment for foreign investors?
We have seen China's commitment to further opening-up, especially to increase access to the service and industrial sectors and relax restrictions on foreign ownership. These supportive policies will create a more attractive environment for foreign investment.
Otis established its business in China in the early 1980s, growing with and supporting industry along the way.
How has innovation changed China's economic development and your company's business in China?
China's economy has enjoyed rapid and sustained growth after 40 years of economic reform and opening-up. Innovation is undoubtedly the major force driving it. The world has seen the country's innovative capacity. China is perceived as one of the most friendly markets to deploy new technologies with an amazing pace of development.
Innovation is essential for Otis and is in our DNA. In China, we have increased R&D investment to accelerate the development of innovative products for our customers and address some underserved market segments. As part of the Otis global R&D network, we inaugurated our new Otis Lead Design Center in Shanghai last year. It is home to some 600 engineers with advanced labs, and it develops products and technologies for China and other markets overseas.