Why the world will again track China's NPC
Share - WeChat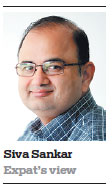 The second annual session of China's 13th National People's Congress comes at a testing time. National-level institutions like governments and parliaments across the world appear increasingly dwarfed by transnational and international bodies on one hand, and upstaged by global-scale, technology-rich, advertisement-and PR-boosted multinational corporations on the other.
Make no mistake though. The whole world will likely track the NPC session, just as it tracked similar proceedings in the past. Why? "It's the economy, stupid."
With a GDP of $13.4 trillion last year, China remains the world's second-largest economy, trailing behind the United States' $20.5 trillion. It is also on its way to the world's economic pinnacle.
However, its economic growth has been slowing, causing concern everywhere. Its growth rate of 6.6 percent last year was the slowest since 1990, and down from 6.8 percent in 2017. In a globalized, World Trade Organization-enabled world, constituent economies have become utterly interlinked and interdependent. If China sneezes, the rest of the world will catch a cold.
On top of that, there were trade tensions with the US. Elsewhere, post-Brexit uncertainty has been roiling the world's markets. Meanwhile, China's hitherto floundering economic competitors have been trying to pull up their socks and get their act together.
On the parliamentary front, legislatures have done little to enhance their diminishing standing. In the US, a confrontational approach has marked relations between Congress and the White House, leading to a government shutdown over funding for a border wall project.
In the United Kingdom, Parliament has been debilitated by unprecedented indecisiveness and squabbling over the Brexit deal.
Key economic legislation took ages to be enacted and implemented in India, while a potentially society-transforming law was amended in less than 48 hours without in-depth debate or public consultation, raising questions over the efficacy of what is the world's largest Western-style democracy.
In many countries, the disenchantment of common people with their lives and political systems has been growing due to widening wealth inequality, crumbling social and welfare systems, military invasions, economic sanctions, and immigration issues. Coupled with environmental warnings, such factors have been stoking a general sense of gloom.
Against this backdrop, it is easy to be dismissive of any parliamentary sittings in the digital age. Yet, the world will likely track China's 13th NPC with bated breath. The world's largest parliamentary body, with 2,980 lawmakers, or deputies, it came into being in March 2018 and will serve till early 2023.
For the global economy to stabilize and grow, peaceful resolution of the US-China trade dispute for a long-term win-win is important. The NPC session will reveal whether or not that will come to pass.
China's top legislature is expected to debate and vote on a unified foreign investment law. Among other things, the law, if enacted, will address key issues relating to the world's concerns about China's approach to business, trade, investment and intellectual property like patented or proprietary technology.
The proposed unified foreign investment law will subsume three existing laws that govern Chinese-foreign joint-equity ventures, non-equity or contractual joint ventures, and wholly foreign-owned enterprises.
In the current context, the most significant aspect of the draft law is arguably that all foreign-investment-related parties in China should adopt negotiation as a means to decide conditions of technological cooperation.
That is to say, neither government departments nor officials will be able to use administrative means to force technology transfers.
In all, the draft law has 39 articles that discuss aspects like the need to provide fair and equal treatment to all China-based businesses, regardless of whether they are foreign or Chinese owned.
There is also a big-ticket reform proposal: even foreign-owned companies could potentially participate in government procurement.
In the run-up to the session, some NPC Standing Committee members and deputies have been emphasizing that foreign investment has been key to the economy's transformation over the last 40 years, a period marked by reform and opening-up.
After reviewing the draft, they pressed for further clarifications or the inclusion of new chapters on "forced technology transfers", admission reviews for foreign investment, and fair competition between domestic and foreign companies.
They have also been underlining that through the proposed law, reform and opening-up should be deepened, with more foreign investment inflow, protection of foreign investors' rights and interests, and the fostering of a business-friendly atmosphere.
Consensus appears to be emerging that the draft law should be urgently adopted in a transparent manner, so as to demonstrate China's firm resolve to open wider to the world, and thus help boost foreign investment.
The draft law was circulated to all NPC deputies in advance, and also published on the NPC website for public feedback.
If the NPC enacts the law this month, the world will heave a collective sigh of relief and begin to see China in a different and brighter light.
My guess is that given the current situation, Chinese lawmakers will seize the day and unanimously vote for the unified foreign investment law.
However, this will not be the only reason why China's top legislature will distinguish itself this month. Of late, the world has been overcome by an insatiable interest in all things Chinese.
Many economically thwarted parts of the world look to a resurgent China as a possible role model. The NPC, it appears, is aware that its performance will come under intense scrutiny.
In relative terms, its performance has been stellar. It has shown the world how a national parliament can be nimble and swift in its responses to developing situations.
For instance, in an unprecedented move, the NPC advanced its approval by several months for local governments to borrow via bonds in January, so that the latter could focus on financing infrastructure projects, and thereby minimize the impact of downward pressure exerted by a slowing economy.
Media reports suggest the 13th NPC has so far enacted eight new laws, amended 47 laws and adopted nine decisions relating to legal matters and other major issues.
It has also heard and reviewed 23 work reports, conducted three special inquiries, reviewed the implementation of six laws, ratified four international treaties and carried out special research five times.
Over and above regular domestic legislative business, NPC deputies have been involved in parliamentary exchanges with their counterparts all over the world, including the leaders of parliamentary chambers and heads of state.
The NPC has also been proactively championing or supporting nation-building measures, and will look back on the Year of the Dog with some satisfaction.
That is because it was marked by many achievements: a successful space mission to the dark side of the moon; massive infrastructure projects like the sea bridge connecting the Chinese mainland, Hong Kong and Macao; China's first international import expo; the growth of the Xiongan New Area; stock connects; fresh breakthroughs in innovation and high-tech like 5G and the BeiDou-3 global navigation system; and capital market reform that attracted reputable credit rating agencies and indexes to China.
Viewed against these achievements, the economic slowdown, US-China tariff row, security concerns over Huawei's 5G equipment, and questionable human gene editing appear challenges that need to be tackled. I am confident that given its record, the NPC will contribute toward that end.