Migrant populations still have difficulty integrating into city: report
Share - WeChat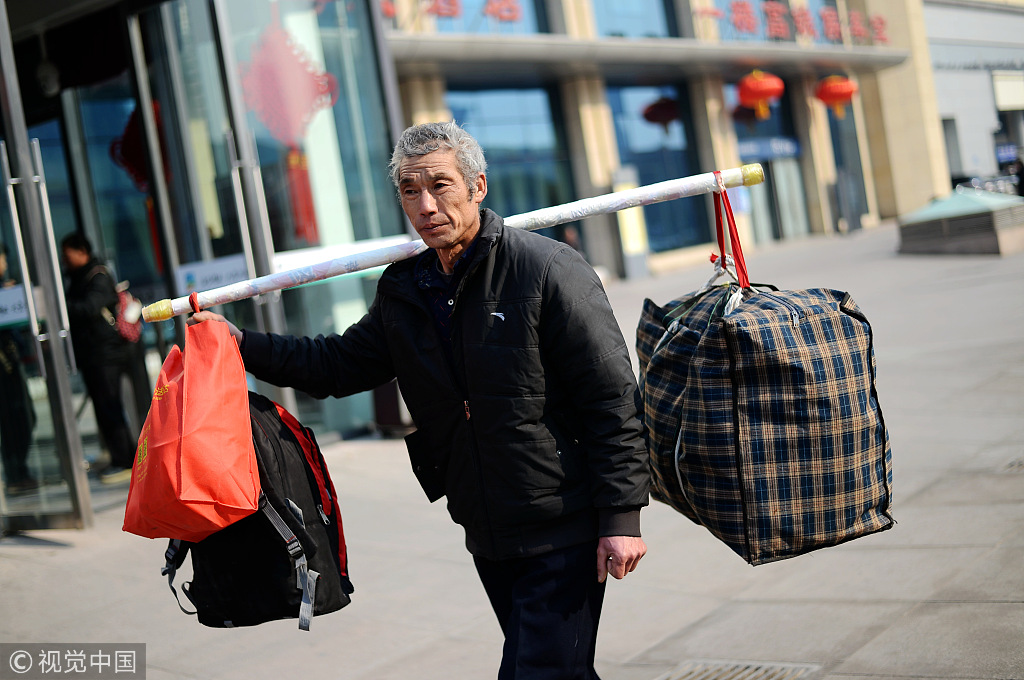 A new report shows China's migrant population faces many barriers integrating into cities.
The report, jointly compiled by research institutes and government organizations including the Chinese Academy of Social Sciences and Migrant Population Service Center under the National Health Commission, measures the integration of floating populations in 50 Chinese cities using four criteria — politics, economics, public service, and culture and psychology.
The 50 cities surveyed scored 51.62 out of 100 on average for integration of their migrant populations, according to the recently published report.
"Despite the progress we have achieved in helping floating populations integrate into cities, there remains a huge gap between reality and the ideal," Xiao Zihua, director of the Migrant Population Service Center of the National Health Commission, was quoted as saying by Caixin.com.
"Migrant population" refers to those who leave their hometown to seek employment or education elsewhere.
The report shows less than 4 percent of migrants have secured a local hukou, or permanent residency permit, in cities where they live. Besides the difficulty in getting a hukou, the migrant population also faces barriers such as high housing prices, low employment rates, and poor job security.
In 2014 only 10.76 percent of migrants owned their urban homes, while 73.19 percent lived in rental housing.
The report also shows those born in the 1980s have become the majority of the floating population — accounting for 64.7 percent of the total — and over half of the migrant population have a strong desire to settle in cities.
Statistics show China has a migrant population of 250 million. That means one out of six people are migrants without the same access to public services — such as children's education, social security and health care — as their urban counterparts.
In 2014, the State Council issued a document to further reform the decades-old hukou system. It called for lifting all hukou restrictions for small towns and cities, loosening hukou restrictions of middle cities in an orderly way, and strictly controlling the population of large and super-large cities.
"The larger a city is, the harder to integrate," Xiao said.
"It is the large and super-large cities migrant populations most want to integrate with, while our urban development strategy is channeling them into small and middle cities, which are contradictory (goals)," he added.
In 2017, Shanghai, Guangzhou, Shenzhen and Beijing were the four cities attracting the most migrants, with a floating population of 9.72, 9.67, 8.18 and 7.94 million respectively. But in recent years, the migrant population in Beijing and Shanghai has dropped due to tighter controls on population growth.