All along the line
Share - WeChat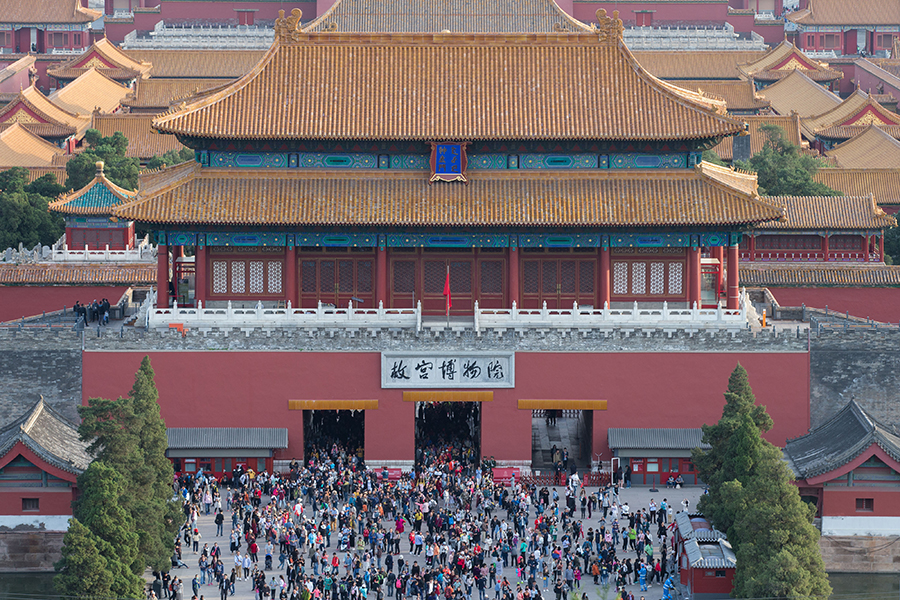 Themed routes along the Central Axis
Royal
The Palace Museum-Jingshan Park-Beihai Park
The Palace Museum stands at the center of the Central Axis and is known as the biggest and most complete ancient palace complex in the world. This route offers a bird's-eye view of the museum from Jingshan and the picturesque scenery of the royal gardens and lake in Beihai Park.
Architecture
Temple of Heaven-Xiannongtan-Yongdingmen
The Temple of Heaven and Xiannongtan, the Temple of Agriculture, are symbols of feudal imperial ideology and its profound ritual culture. At Yongdingmen, the southern end of the Central Axis, tourists can climb the tower to overlook the whole of Central Axis and take in the charm of Beijing.
Rhyme
Beijing folk culture
The route covers Beijing's renowned art facilities, such as Laoshe Teahouse, Huguang Guild Hall and Tianqiao Art Center, which stages performances of traditional crosstalk and Peking Opera. It's one of the best ways to experience the civil culture and folk art of this ancient capital.
Art
Yishu 8-National Art Museum-Beijing People's Art Theatre-National Centre for the Performing Arts
Beijing's profound history and culture have been preserved in its artistic works. The Yishu 8 offers pioneering art innovation, while the National Art Museum displays the country's art treasures. Modern art performances can be enjoyed at the Beijing People's Art Theatre and the National Centre for the Performing Arts.
Museum
National Museum-China Railway Museum-Beijing Museum of Natural History
The Central Axis has rich museum resources. The National Museum records the nation's 5,000-year civilization. The railway museum tells the history of the nation's railway over 130 years. Visitors can also appreciate the country's natural history on this route, including the fossils and dinosaur skeletons at the Beijing Museum of Natural History.
Hutong
Nanluoguxiang-Shijia Hutong-Lumicang Hutong-Dongtangzi Hutong
This route takes tourists to the old alleyways that are characteristic of the old capital. It also includes the residences of famous historical figures and a courtyard dating back to the capital's earliest days in the Yuan Dynasty (1271-1368).
Leisure
Shichahai-Yandai Xiejie-Drum and Bell Towers
One walks through the time on this route, discovering interesting things from antiques to calligraphy and painting, from smoking utensils to snacks. And the morning bell and dusk drum can still be heard at the Drum and Bell Towers.
Fashion
Wangfujing-Donghuangchenggen
This route takes visitors to one of the most famous commercial streets in Beijing, where they could discover traditional time-honored Chinese brands and international items. In addition to shopping and food plazas, one can also view a church and take in a show at a theater.