Petrochemical spill sends 52 to hospital in Fujian
Share - WeChat Hose to oil ship ruptured in offloading; patients recovering; cleanup in progress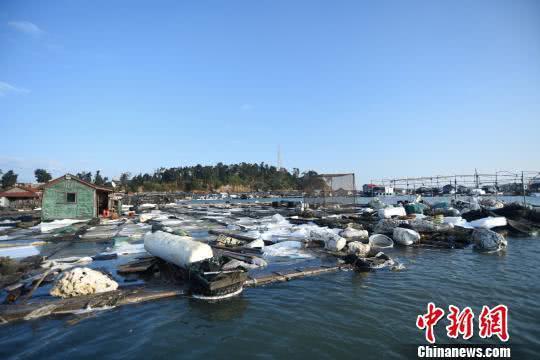 More than 50 people were sent to hospital in Quanzhou, Fujian province, where almost 7 metric tons of petrochemicals leaked on Sunday, the local government said in a statement on Thursday night.
The 52 patients mainly suffered from dizziness, nausea, vomiting and throat discomfort. Ten required hospitalization, including one who fell into contaminated water. So far, all 10 patients are recovering quickly.
A hose from an oil tanker owned by Fujian Donggang Petrochemical Industry ruptured when it was offloading petrochemicals consisting mostly of hydrocarbon solvent at a wharf in Quanzhou's Quangang district at 1:13 am on Sunday, the statement said.
Beijing News reported that an early investigation had shown the accident was due to wear and tear of the hose, which leaked 6.97 metric tons of the chemical into the water. The government said the leak is currently classified as a manufacturing safety incident, and investigations are ongoing.
The Quanzhou government said in the statement that it will continue to monitor the content of the leaked chemical in the air and water, as well as marine products from the area, and evaluate economic loses, hold people accountable and handle the incident in accordance with laws and regulations.
Aliphatic hydrocarbon solvents are oily, pungent chemical compounds typically derived from the oil refining process. They are flammable and toxic, according to Science and Technology Daily, which strongly advised people against breathing in large amounts of the chemical or eating contaminated fish or vegetables.
The incident directly polluted around 0.6 square kilometers of water, and 20 hectares of aquaculture farms owned by 152 fishing families. As of Thursday afternoon, local authorities had dispatched more than 400 ships and 2,500 personnel to clean the water, and the work had been mostly completed, the statement said.
The cleanup effort is now focusing on absorbing possible leftover chemicals around the shore and on fishing equipment, it added. As of Thursday, apart from the spill site, water quality in the surrounding area had returned to good conditions.
Air quality has also improved steadily in the days since the incident. The volatile organic compound level in the air dropped from 14.9 micrograms per cubic meter at the village closest to the spill site to around 0.1 to 0.4 mcg per cubic m on Thursday.
Any level below 4 mcg per cubic m is considered safe, according to petrochemical industry standards, the district's environmental protection bureau said.
The district's bureau of agriculture, forestry and water said it had issued an emergency notice on Sunday to local farmers, warning them not to harvest, sell or eat marine products from the area, and wait for safety test results from the authorities.
Beijing News said local fish farmers had suffered losses ranging from tens of thousands of yuan to more than 1 million yuan ($144,300) due to the pollution. Fujian Donggang Petrochemical Industry apologized for the spill in a statement released on Sunday and promised to compensate them for their losses.