Monteverdi's classic opera gets the immersive touch
Share - WeChat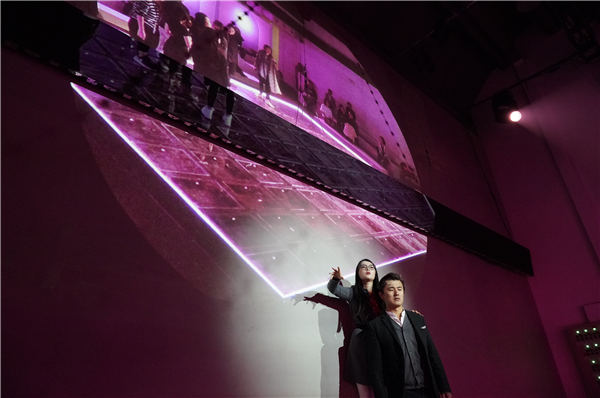 First there's a wedding followed by a funeral, then you meet the desperate groom, the God of Hope, the idol bride and the King of the Underworld.
Revelry, blessings, hangovers, infatuation, pitfalls, interrogations, gossip and judgment pass by one after another.
This is the rehearsal of immersive opera Orfeo, and the show will be staged at The Red in the Sanlitun area of Beijing from Friday through Sunday, as part of the 21st Beijing Music Festival.
Claudio Monteverdi's L'Orfeo, created between the end of the Renaissance and the beginning of the Baroque period, is regarded as the origin of opera. And the story is based on the Greek legend of Orhoeus - a story of his descent to Hades and his fruitless attempt to bring his dead bride Eurydice back to the living world.
Zou Shuang, the writer and director of Orfeo, attempts to engage a contemporary audience by retelling this ancient tale.
"We decided to present a production with the aim of revisiting the spirit of Monteverdi's time," says Zou, who invited international musicians and collaborators to join her.
"This has always been the spirit of the Beijing Music Festival - to encourage new work and to welcome international creative talent from all around the world to make something unique," says Zou.
Zou has used all the theater devices from both the old art of opera and immersive theater.
"The audience not only watch the wedding, but they are invited to participate as guests. The audience can wander through the entire space as if at an actual wedding," says Zou.
As the wedding reaches its climax, the death of Eurydice is announced. And Orfro's vision of happiness falls apart, and gradually a contemporary version of Orfeo's journey starts.
While searching for the murderer he navigates through social media and gossip columns that gradually transform into a vision of hell.
Instead of asking the question as in the original myth - why did Orfeo look back - the audience sees that he is entering a future that is identical to his past.
"Orfeo's dilemma is everyone's dilemma today, trapped in social media and capitalism," says Zou.
Born and raised in Beijing, and is now the co-founder of the New York-based composer and performer ensemble Invisible Anatomy, Fay Kueen Wang is the composer of Orfeo, and also plays Eurydice and Pluto in the opera.