Chinese composer produces rare work with Norwegian violinist
Share - WeChat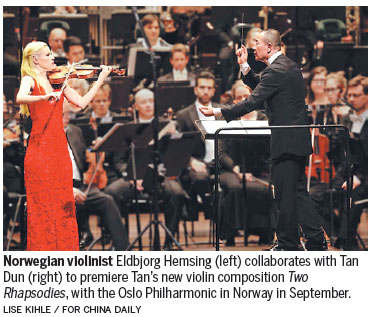 Norwegian violinist Eldbjorg Hemsing vividly recalls her first meeting with renowned Chinese composer and conductor Tan Dun, saying it was full of good musical energy.
Tan is best known for his soundtrack for movies such as Crouching Tiger, Hidden Dragon by Ang Lee and Hero by Zhang Yimou.
He is also a recognized composer of orchestra and ensembles.
In 2010, Hemsing was invited to premiere Tan's violin concerto, Love, with the Trondheim Symphony Orchestra as part of the World Expo in Shanghai.
Hemsing, 28, was nervous. And before she played the piece Tan asked Hemsing about her thoughts on the theme of the concerto and how she interpreted the story.

"The theme was love and its development was through three parts of music. I explained how I imagined the character in the music, and when I was finished, he said: 'That's exactly the way I describe it'," says Hemsing.
Since then, music has taken the two to a number of performances in China and Europe, as well as premieres, including the most recent Hemsing recording with Oslo Philharmonic of a full album of Tan's works, comprising the premieres of Fire Ritual-A Musical Ritual for Victims of War, Rhapsody and Fantasia, done along with Shenzhen Symphony Orchestra and Guangzhou Symphony Orchestra.
The works musically connect two of Tan's biggest inspirations - the rich traditions of Peking Opera and the cultural impulses of New York.
Speaking about the Fire Ritual premiere in Oslo, Tan says as Oslo is a peaceful city and Norway a peaceful country, it was fitting for the piece commemorating peace and the victims of the war to be performed in the city, and that it was a magnificent experience and full of positive energy for the future.
"It was an honor to work with Norway's best - the Oslo Philharmonic and Eldbjorg Hemsing - on this piece. It was also an honor to share the love of China and the wishes of its people for a peaceful future through this piece," he says.
The duo will release the recordings in China alongside performances in January. But, before that, Hemsing will give three shows in Beijing and Shanghai over Oct 16-19, working with Tan again and featuring works by him and Norwegian composer Edvard Grieg.
"My inspiration for the repertoire selection is China and Norway, a celebration of the cultural heritage of both countries," says Hemsing.
Most Popular