Soprano pays tribute to Verdi with album
Share - WeChat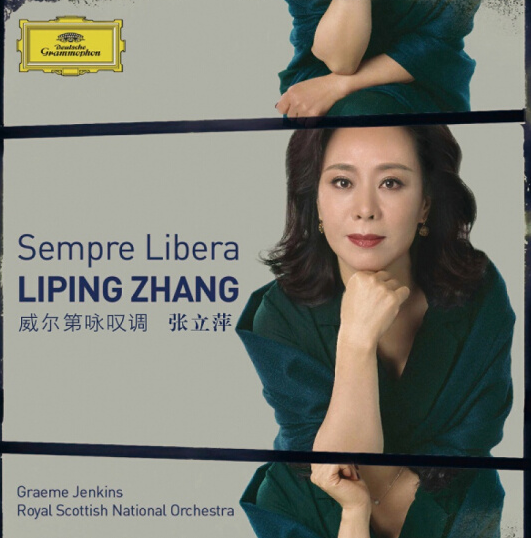 Chinese soprano Zhang Liping has released a new album Sempre Libera, in which she performs nine arias by Italian opera composer Giuseppe Verdi (1813-1901), including E strano! Sempre libera from La Traviata, Caro nom from Rigoletto and Come d'aurato from Il Trovatore.
The 53-year-old, who has achieved international acclaim by performing with many of the world's leading opera houses, including the Royal Opera Covent Garden, Deutsche Oper Berlin and Metropolitan Opera, says she has dedicated the album to her beloved Italian composer.
Zhang started preparing for this album five years ago, working with the Royal Scottish National Orchestra and under the baton of Graeme Jenkins, hoping to get it ready for Verdi's 200th birth anniversary. But the project took longer than she expected.
"And when I finally finished recording this album, I realized that it's more than a tribute to Verdi-this is a review of my career as a soprano," says Zhang.
The soprano says she had to employ various vocal techniques to meet the challenges in Verdi's arias.
"It takes time and patience to immerse yourself in the music and atmosphere created by Verdi. The process of recording this album was honest and personal to me," she says.
Jenkins has lauded the effort, saying: "Of all the Italian composers of opera, in my opinion, Giuseppe Verdi was simply the greatest.
"Taking the rhythmic vitality of Rossini, the bel canto line of Bellini and the dramatic pulse of Donizetti, he used all these melodies to create his uniqueness.
"The nine arias on this album span the whole of his composing lifetime, from the early success of Ernani (1844) to the maturity of Otello (1887). In these notes, I want to tell you what was in my mind as we recorded each aria, always asking 'why' he had chosen those notes, those instruments and those dynamics to create the atmosphere at the heart of the drama."
Zhang, who was born in Wuhan, central China's Hubei province, received vocal training at the Wuhan Conservatory of Music and graduated from the opera department of the Central Conservatory of Music in Beijing in 1989.
As a young student, she was chosen to perform with Placido Domingo, a famous Spanish tenor and conductor and this inspired her to pursue opera under Canadian soprano Phyllis Mailing at the Vancouver Academy of Music.
In 1997, she moved to London.
Besides her signature role as Cio-Cio-San in Madame Butterfly, Zhang has won acclaim for her roles as Mimi in La Boheme and Gilda in Rigoletto at major opera houses.
Before Sempre Libera, Zhang released three albums under the Universal Music Group, including Schubert: Night and Dreams, in which she sings 18 romantic songs by Austrian composer Franz Schubert.
Now, as the head of the opera department of the Central Conservatory of Music, she believes that China offers many opportunities for opera singers.
Most Popular