Ku, king of the kitchen
Share - WeChat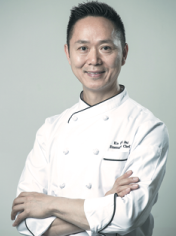 In 2009, Ku was invited to join Yu restaurant at the Ritz-Carlton Beijing to revive its business during the economic slump that followed in the wake of the Beijing 2008 Olympic Games.
Over the next seven years, Ku made drastic reforms in the kitchen-from recruiting new staff to resetting the standards for purchasing ingredients-which propelled Yu to become one of the most popular Cantonese cuisine restaurants in Beijing.
When Ku first took over the kitchen at Yu, the restaurant turned over around 400,000 yuan ($58,217) a month. After his reforms, it made more than 3 million yuan a month during its peak.
Ku's skill was appreciated by many world leaders, famous actors and singers. Former British prime minister Tony Blair was so taken by Ku's fried lobster balls that he asked to meet the chef.
After having revived the fortunes of Yu-which won both him and the restaurant a string of culinary awards in the process-Ku thought it was time to find a new challenge.
By the end of 2016, Ku had co-founded the Beijing Kitchen-this time adding the title of "entrepreneur" to his business card besides "chef".
Running a restaurant is even busier than being a chef, yet Ku enjoys the hard work. "From the service, to the menu, to the dishes themselves, I have to take care of everything in the restaurant now," says Ku, who enjoys observing how other restaurants work when he goes on vacation.
For Beijing Kitchen, Ku specializes in creating delicate Cantonese cuisine by combining traditional dishes with some new creations of his own. Ku thinks flavors are key to the restaurant's success, and he endeavors to maintain a very high standard of dishes for his diners.
"To cook Cantonese cuisine well, you need to master the precision of each dish, using the exact amount of ingredients, seasoning and cooking time. For example, one good way to measure this is after a dish has been done, there should be no extra oil left on the plate," says Ku.
From dim sum and soup to fried dishes and dessert, a Cantonese cuisine chef has to master them all. Ku brings all his skills to the table, and he also enjoys keeping up the tradition of tasting his chefs' dishes each day, just as his mentor Chan did.
Ku insists on cooking with seasonal ingredients, and tries not to use off-season items. He has created a special autumn and winter menu that features crab and other timely ingredients.
Ku says one month after he left the restaurant in Osaka, it was awarded a Michelin star-an honor many people believed was down to his efforts.
"The star is just the icing on the cake. For me, I just want to do my job well each day," says Ku.
Most Popular