Ku, king of the kitchen
Share - WeChat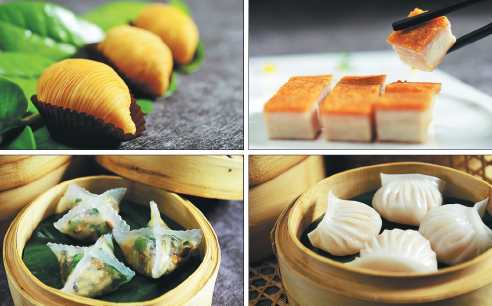 Hong Kong chef Ku Chi-fai always makes mooncakes at Mid-Autumn Festival, but this year he is creating a special set of bicolored floral-patterned mooncakes using a ceramic mold from the Tang Dynasty (618-907), which come in six floral flavors including rose, jasmine and peony.
"People in Hong Kong love to eat mooncakes, but they take hours to make," says Ku, who is now the manager of the Beijing Kitchen after a culinary career spanning 40 years.
Located on the sixth floor of the capital's SKP shopping mall, the eatery's name may seem slightly misleading for fans of Ku's cooking, as he's a chef who specializes in Cantonese cuisine. Ku explains that he wanted his diners to feel more relaxed about eating at his restaurant, and "the word 'kitchen' sounded more amiable than 'restaurant'".
From chef to a restaurant manager, Ku took the long way to Beijing from Hong Kong via Osaka.
Born in 1963, Ku began working in kitchens at the age of just 15, starting out as an apprentice under a Hong Kong dim sum chef.
"In Hong Kong, people under the age of 18 are not allowed to be hired, so for the first three years in the kitchen, I didn't have a chef's uniform and I sometimes had to hide," Ku recalls, adding that learning new skills was the most important thing for him at the time.
In 1992, Ku started work at Lei Garden, a restaurant run by Chan Shu-kit, who is famous for being strict with his chefs.
Chan insisted on tasting each chef's dish every day and his exacting standards intimidated many chefs into quitting over the years-but not Ku, who ended up working there for 14 years.
"I didn't take his criticisms as an added pressure, because I always learned from his comments," says Ku. "He is an expert in cooking in his own right, yet he continues to learn from other chefs."
Instead, Ku regarded Chan's criticisms as a form of encouragement, understanding that if the boss didn't tell him what was wrong with his cooking, then he would never be able to improve.
Most Popular