'We-media' platforms describe rapid growth at Xiamen trade expo
Share - WeChat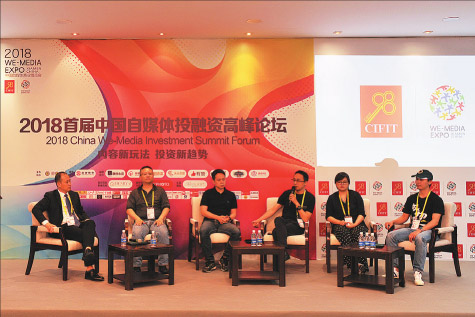 People using WeChat, Weibo and other online platforms to do business are facing numerous challenges posed by rapid growth, according to participants at the 2018 Wemedia Expo, a part of the 20th China International Fair for Investment and Trade, held in Xiamen, Fujian province.
"We-media" is a general term for internet platforms that deliver business information to people in an electronic format.
According to the statistics released at the expo, business is booming.
A total of 500,000 WeChat official accounts are updated every day, with 5 billion daily WeChat page views.
There were 700 Wemedia platforms selling products online in the end of 2016 and the number increased to 10,000 by 2017.
This year, the number of content e-commerce accounts, which sell goods and services to consumers through words, pictures and videos, increased 68 percent.
Liang Chunrong, director of the foreign investment promotion affairs bureau at the Ministry of Commerce and director of CIFIT office, said that everyone is the audience of legacy media and We-media.
Based on internet technology, We-media breaks the limitations of legacy media and becomes a new gateway for promotion and consumption of high-quality products.
In fact, because of e-commerce, "for the first time, communication and consumption are directly integrated to make a new powerful business force," Liang said.
We-media has high engagement with fans, as e-commerce users tend to understand fans' pain spots, habits and excitement very well and their e-commerce products can grab fans' hearts quickly.
China's investors also gave suggestions to the Wemedia operators on financing at the expo.
Cao Yue, president of Partner Capital Group, said that We-media operators should ask for help from professional financial advisors, who will choose suitable investment institutions and business partners.
Gao Hongqing, CEO and managing partner of New Margin Capital Co, said that personalization and high-quality content are the key to a valuable We-media, which should consistently produce high-quality content through continuous learning.
Huang Yantao, executive director of SAIF Partners, said We-media should focus on integrating online and offline channels to improve effective average revenue per user.
The operators of Wemedia said the expo helps them find more products that fit the tone of their platforms and get in touch with new sales channels for their products.
(China Daily 09/10/2018 page6)