BAIC Group bets big on new energy
Share - WeChat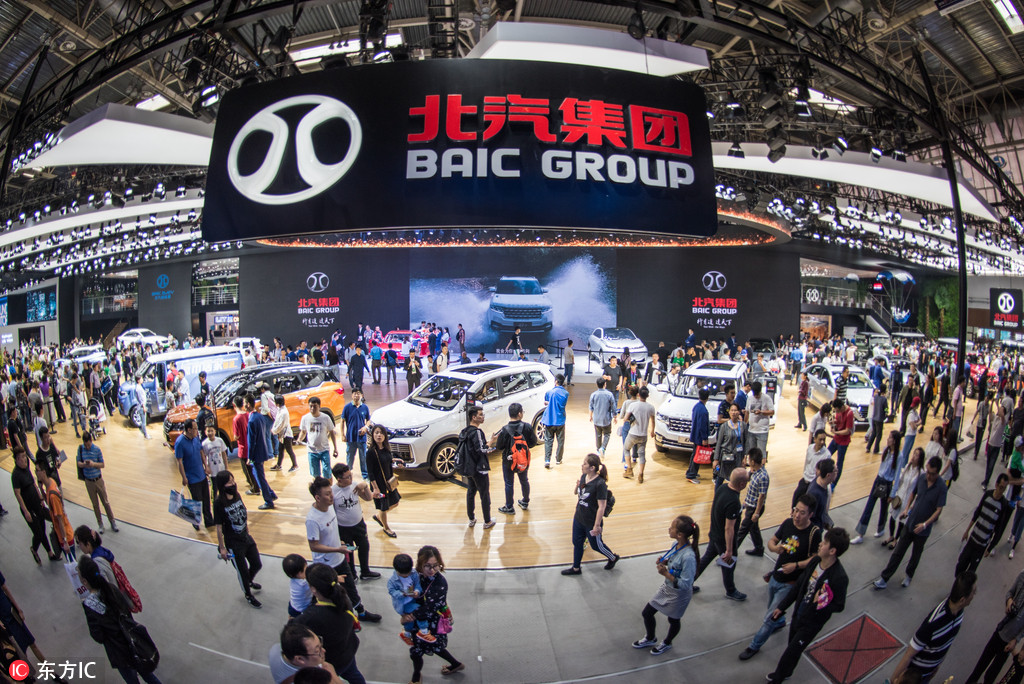 Beijing Automotive Group Co Ltd, or BAIC Group, is betting big on new energy vehicles as it faces increasingly tough competition in the world's largest car market.
The new energy auto sector is one of the company's two trump cards together with SUVs, said Xu Heyi, president of the fifth-biggest Chinese auto group by unit sales. The company will collaborate with new partners in vehicle and component manufacturing, as well as in various parts of the new energy vehicle industry, Xu said.
BAIC has been gaining momentum in the sector in recent years, with sales of such vehicles bearing its own brands doubling last year to 103,000. Deliveries of its new energy models also soared by 78.5 percent to 54,000 vehicles during the first half of the year, the automaker said.
In another move to strengthen its position in the sector, BAIC is listing its Beijing Electric Vehicle Co unit, one of China's best-selling new energy vehicle producers, on the Shanghai Stock Exchange. The company is now in the final stages of the listing process.
Competition among automakers in the new energy vehicle sector will become more intense as international automakers introduce more competitive models and many new startups launch their products, said Kou Nannan, a senior associate with Bloomberg New Energy Finance's advanced transport sector.
"It is crucial to secure capital at the moment to survive this round, and as a leading domestic new energy vehicle maker, Beijing Electric Vehicle can further expand its capacity with the IPO, as well as to make better models," he said. "This will help BJEV to maintain its leading position in the industry."
According to Kou, in addition to its success in China, BJEV has also been actively exporting its new energy models to overseas markets.
"Its near-term goals should focus on developing its markets. But to better engage in global markets, BJEV needs to establish a manufacturing hub in a foreign country," he said.
Xu said the company will be providing more pure battery-powered cars under its new premium brand, Arcfox, in late 2019 or early 2020.
The company has signed a joint venture agreement with Canadian automotive supplier Magna International Inc to develop a high-end smart electric vehicle, and produce BAIC's Arcfox-branded models in Zhenjiang, East China's Jiangsu province.
The first Arcfox model will feature a steel and aluminum body, it said.
China surpassed the United States to become the world's biggest new energy auto market in 2015, thanks to subsidies from the government amid stricter emission rules. The country accounted for half of global sales in the sector in 2017. Insiders said Chinese sales of electric and hybrid vehicles could top 1 million this year.