BAIC plant accelerates its global efforts
Share - WeChat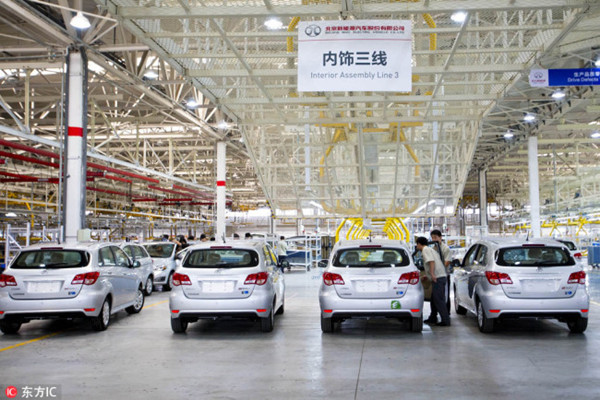 Over the past two decades, foreign automakers have injected billions of dollars into China with an eye on the country's huge consumption power. But the situation has changed drastically in the past few years, as Chinese carmakers are fast catching up with their foreign counterparts in the global markets with inexpensive, easily serviceable products.
In line with that trend, Beijing Automotive Industry Holding Co Ltd, one of China's five major automakers by sales revenue, is expected to reach an annual production capacity of 50,000 vehicles at its South Africa plant by the end of 2019. It aims to further compete with established global rivals such as Toyota Motor Corp and Ford Motor Co in Africa.
Located in Port Elizabeth, a shipping hub in South Africa, the plant is a joint venture between BAIC and South Africa's State-owned Industrial Development Corp, a financial company providing capital support for the country's companies and investment projects.
With a planned total investment of $800 million, the facility will start initial operations in the fourth quarter this year.
Xu Heyi, BAIC's chairman, said the plant's first phase has generated 1,540 jobs already, with 90 percent of them going to locals. The factory is expected to create another 2,500 jobs in the upstream and over 15,000 direct and indirect jobs in the downstream upon final completion late next year.
BAIC aims to supply automobiles - including passenger vehicles, SUVs, pickups and light trucks - from the manufacturing facility not only to the South African market, but the whole of Africa in the long run. Its focus will be on fast-growing markets such as Nigeria, Cameroon, Egypt and Algeria, the company said.
Equipped with an automated production line, the plant will offer both right-hand and left-hand drive vehicles for different African markets.
Xu said continued investment in infrastructure development will be key to the group's sustained growth in Africa over the next decade, as consumers there look to buy easily serviceable and inexpensive vehicles.
The factory, located in the Coega Special Economic Zone, was launched in August 2016. It will begin assembling, painting and welding vehicles by the end of next year. Up to 60 percent of the vehicle parts and materials will be sourced from South African suppliers.
"Boosted by growing incomes, more African consumers have stopped purchasing second-hand vehicles and have begun to buy new ones. Chinese companies have found they choose brands based on which they can buy spare parts for in the nearest town," said Dong Yang, executive vice-chairman of the China Association of Automobile Manufacturers.
Li Jingang, general manager of BAIC International Development Co, said this is certainly a new growth market. He said BAIC can provide spare parts in sufficient quantities and technical services on time through South African dealerships and locally built warehouses, since it has moved its supply chain into South Africa.
The number of BAIC dealerships in South Africa will rise from the 17 currently to 27 by the end of this year, he said.
Beijing-headquartered BAIC employs over 130,000 staff members worldwide and has built over 20 plants, and research and development centers in Mexico, India, Japan, the Netherlands, Spain, Germany, Italy and the United States.