Students set sights on AI majors
By LIN SHUJUAN/MA ZHENHUAN/XING YI/ZHOU WENTING/CAO CHEN/HE QI | China Daily | Updated: 2018-07-16 07:48




Share - WeChat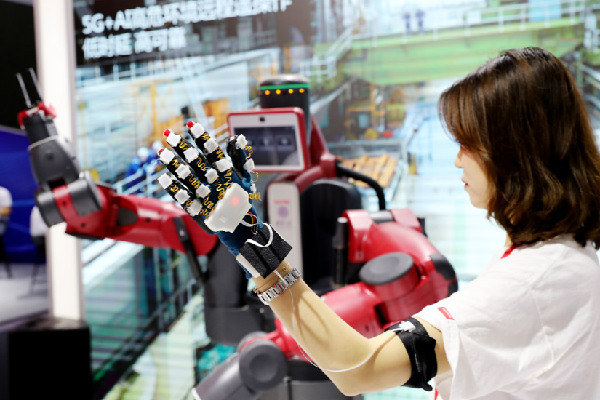 Great leap
The high entrance bar is set to disappoint many who are interested, but experts say they should not be deterred in pursuing AI for their future careers despite failing to be enrolled as AI major undergraduates.
While many universities in China have set up AI-related master's programs and research projects for decades, AI alone has not been an undergraduate major in the country until recently.
This is because AI is essentially multidisciplinary, according to Yang Ming, professor at the School of Electronic Information Engineering at Shanghai Jiao Tong University.
AI has long been considered and is still regarded by many experts as a pinnacle, built on a solid command of science in computers, math and biology, among others.
This has made the curriculum design of AI as an undergraduate major a challenge, the experts say, based on how to strike a balance between setting a solid foundation to enable lifelong learning and preparing students with hands-on experience for immediate career prospects.
In general, Yang said, AI education has two directions. One focuses on basic research of core technology, the other on real-life application, which is essentially data-driven.
"Over the past decade, big data has allowed the fast development of AI applications, resulting in the industry boom we're now experiencing," Yang said. "However, the basic research of core technology has made little progress."
Take automatic driving for example, considered a new technology by many, where the technology and related research have long existed. Yang was involved in some of the research when he was a doctoral student at Tsinghua University 20 years ago. He recently led a student team in cooperation with a research company in designing and producing three driverless minibuses, which now offer free commuting services on the university's two campuses.
"The core technology and concept behind (automatic driving) remains more or less the same," Yang said.
As big data has contributed to the rise of the AI industry, people tend to forget that it is the decades of basic research on its core technology that has made such progress possible, Yang added.
This holds true even in China, as the country is engulfed by AI fever, driven mainly by market-oriented applications.
Even as a student, Pan Baiwen, a junior in electronic engineering at Shanghai Jiao Tong University, said he could feel that AI education was becoming too hectic.
"I spend a lot of time reading papers on AI research," Pan said. "While there has been a rapid increase in the number of AI-related papers, most of them focus on applications. Basic research on core technology, which is aimed at pushing the traditional boundaries, is increasingly rare to find."
Bai Ruibin, director of the department of computer science at the University of Nottingham Ningbo China, has another observation.
"There is a growing social expectation that a fresh undergraduate majoring in AI should be able to perform magic upon graduation," Bai said.
Bai considers this worrying because "it is very tempting for universities to tilt AI education to its applications, which is risky and irresponsible because AI applications are progressing so fast that any related knowledge or skills can be outdated in three or five years.
"This approach to education is detrimental to the industry's long-term development."
Instead, experts say university education should prepare students with the basic theoretical foundation and the ability to innovate, allowing them to learn and adapt for the rest of their careers.
Yang said, "China still needs to strengthen its basic research in AI and to encourage long-term cultivation of talent for the purpose."