Use patience, planning to nurture 'robot 2.0'
Share - WeChat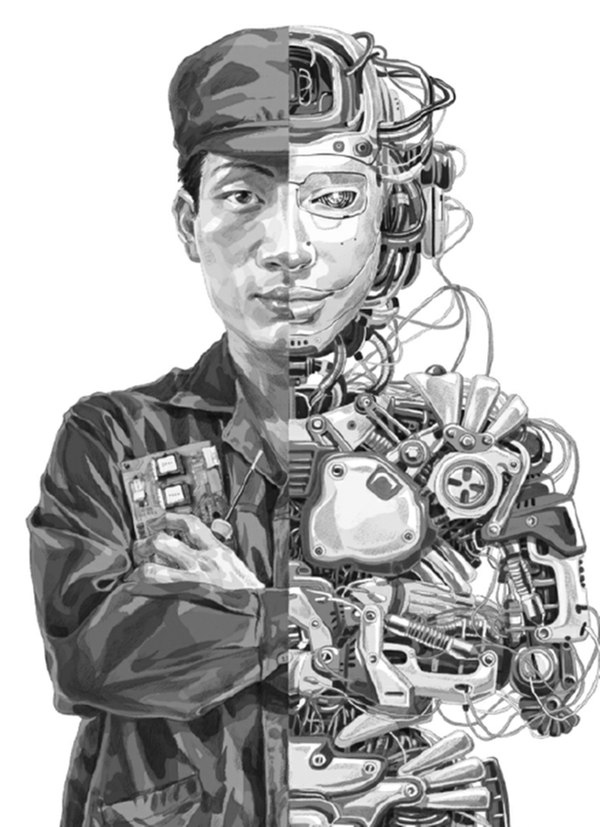 SONG CHEN/CHINA DAILY
President Xi Jinping has reiterated the importance of developing the robot industry to expand China's share in the global robot market. His outlook highlights the significance of innovation-driven development. The world is expected to enter a new era of intelligent manufacturing in the next decade, during which the robot industry will also undergo transformation and upgrading. That will be the era of "robot 2.0".
"Robot 2.0" will be a result of the integrated development of various advanced technologies such as robotics and artificial intelligence, big data, cloud computing and the Internet of Things, which may be understood both as a highly intelligent service platform and a service terminal that combines the virtual and real worlds.
With the implementation of "Made in China 2025" strategy, Chinese companies should not only manufacture machines and robots, but also promote international dialogue and cooperation, and integrate all the necessary resources. To make China's robot industry more competitive, the Chinese robot enterprises should focus more on research and development and invest more funds into the industry.
Although China already has a large number of professionals in the robot industry, it still lacks those who possess cutting-edge skills. So China has to recruit such experts from abroad or cooperate with premier institutes to enable its professionals to acquire those high-end skills.
Besides, there are only a few enterprises in China that could bear the risk of possible failure after investing huge amounts of money in R&D. People talk a lot about how successful an enterprise Huawei Technologies Co is; what they usually forget is the huge amounts of money and tremendous efforts the company has devoted to R&D and for recruiting the best talents.
Given that China's processing Industry 4.0 has to adopt the developing business model and production pattern, robotics needs to undergo profound reform. To make humans and robots work as a team should be its goal, as at the present stage robots only receive orders from humans but cannot communicate with them.
A distinguishing feature of the "robot 2.0" era would be the full integration of information, communications and internet technology and AI to facilitate the transition from partial automation to full automation.
As for AI, its core competitiveness is computational capabilities, which makes it usually function as a basic platform to support other advanced technologies. So it has to integrate with specific products to have practical value. The development path of AI must go through a process of gradual strengthening to reach a stage when robots become highly intelligent and can understand humans, so as to execute all kinds of work according to a given agenda.
Another problem the AI industry has to solve is related to people's right to privacy. As technologies advance and new products are made, the threat of people's right to privacy being infringed increases. For example, Google's Street View vehicle can record any scene in high-definition image. The AI industry has to ensure such problems are minimized, if not altogether eliminated.
More importantly, "robot 2.0" needs to be nurtured through patience and scientific planning, not through the pursuit of quick profit.

The author is CEO of a federation of robotics and intelligent equipment industry.
Most Viewed in 24 Hours
China Views