Robots and drones will untangle delivery network
Share - WeChat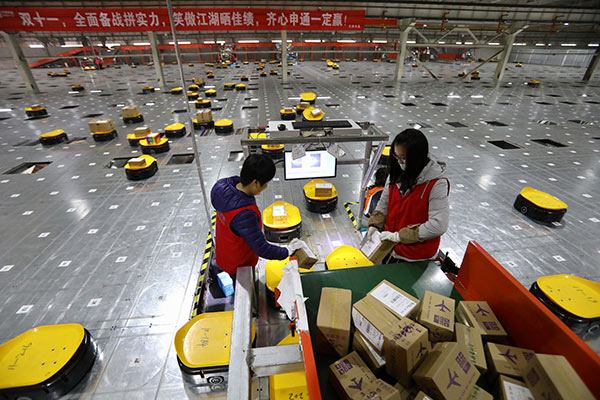 Staff work alongside robots to help sort out packages at a logistics company in Tianjin.ZHU XINGXIN/CHINA DAILY
Major e-commerce players plan to use robots and drones to solve the annual bottleneck when it comes to deliveries after Singles Day.
They have invested heavily in advanced automation technologies, including robotics, to increase efficiency.
JD.com Inc has been at the forefront of this innovation push in its warehouses, and its automated convenience stores and supermarkets.
The second largest e-commerce company in China has rolled out a range of intelligent logistics solutions for Nov 11.
At its automated Shanghai warehouse, JD will handle more than 200,000 orders per day through its sorting and packaging operation.
During the June 18 shopping festival, the firm used unmanned aerial vehicles, or UAVs, to deliver packages in Xi'an, capital of Northwest China's Shaanxi province.
Now, it plans to build 150 operational sites for drone deliveries to Sichuan province, as well as using robots and automated cars to speed up the process.
"As e-commerce is growing in China and around the world, robotics and automation will be a necessary solution to meet that explosion in demand," said Wang Zhenhui, CEO of JD Logistics.
Major rival, Cainiao Network Technology Co Ltd, the smart logistics arm of Alibaba Group Holding Ltd, is going down a similar road.
The company launched a flagship "smart" warehouse in Huiyang, Guangdong province, last month, equipped with an army of robots.
This automated workforce is only activated once an order has been placed by a customer on Alibaba's Tmall shopping site.
A robot then puts the order together and sends it on to a warehouse clerk before delivery.
Cainiao plans to have similar smart warehouses in Shanghai, Tianjin, Zhejiang, Guangdong and Hubei before Singles Day.
Suning Commerce Group Co Ltd is also putting its faith in technology by joining forces with Ecovacs Robotics Co for the Nov 11 shopping festival.
"Online retailers are aware of the significance of intelligent logistics," said Lu Zhenwang, CEO of Wanqing Consultancy in Shanghai.
"They have invested hugely in robots, unmanned sorting and handling equipment, drones and driverless cars to gain the upper hand for Singles Day."
JD has gone even further by extending this technology to its unmanned convenience stores and supermarkets, which were developed by JD's logistics innovation lab JDX and its AI department.
Artificial intelligence, big data, biometric recognition and the internet of things are gradually transforming the retail industry.
Cameras on the ceilings of the unmanned convenience stores monitor traffic flow, product selection and customer preferences, helping JD warehouse staff bring in the right stock.
Facial recognition technology is also used when paying for goods at an automated checkout point.
"Smart-store solutions will completely change what it means to take a trip to the shop," said Ma Song, vice-president of JD.
"From helping small store owners streamline their supply chains and increase stocking efficiency, to speeding up checkouts, this is a massive jump beyond anything in use today," Ma added.