Govt moves to tackle 'white' pollution
Share - WeChat Ten years after the introduction of a strict policy to limit the use of plastics, local authorities are still looking for ways to dispose of the material safely, as Ma Chi reports.
A pair of disposable chopsticks, a plastic candy wrapper, a train ticket, orange peel, a ripped plastic bag that held the orange, a sticker tag, an apple pit, tissues...
The list above details the garbage generated by Wang He on April 25, when she took part in a week-long activity called the Zero Plastic Challenge, launched by Mr. Elephant, a public account on WeChat that focuses on environmental issues.
The activity, designed to promote a reduction in the consumption of single-use plastic products, required participants to post a list of the garbage they produced every day as a means of raising their awareness of plastic, or "white", pollution.
"I never buy plastic wrappers or garbage bags at the market. When my family members go shopping, we take plastic bags from home to hold vegetables such as green beans which can't be weighed if not wrapped," said Wang, a 43-year-old painter from Beijing.
Wang became aware of the hazards of plastic products when she was in college; her cat enjoyed biting plastic bags, but often vomited after doing so. That was when Wang realized that "plastic must be a bad thing".
She is one of a growing number of Chinese who are rejecting single-use plastic products after becoming aware of the environmental harm they cause.
However, even if Wang could reduce her use of plastic bags by five a day - about two kilograms of plastic per year - it would still only equal a tiny portion of the 75 million metric tons of plastic that was consumed in China in 2016.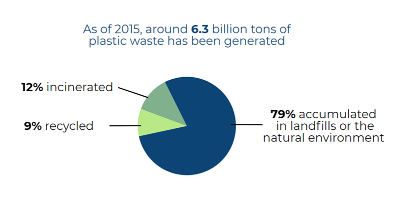 Marketplace ban
Ten years ago, to fight worsening pollution and energy waste caused by the rampant use of plastic bags, the State Council, China's Cabinet, banned marketplaces, including supermarkets, food markets and shopping centers, from providing customers with free bags, and outlawed the use of bags less than 0.025 millimeters thick.
The ban, which took effect on June 1, 2008, has curbed the use of plastic bags in marketplaces.