Third time's a charm for Chinese singer-songwriter
Share - WeChat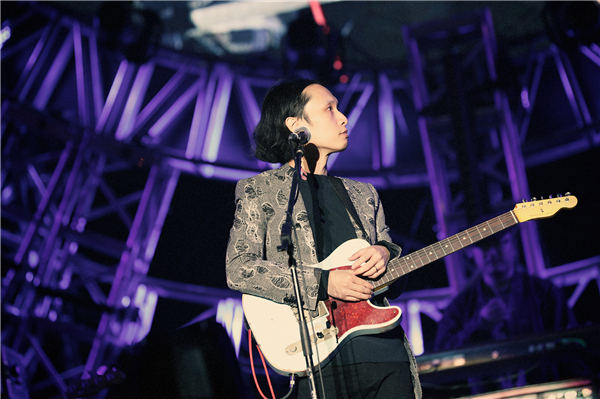 In his latest album, Guo uses evocative lyrics to draw listeners in. For example, in The Fog Space, Guo portrays a romantic yet tragic tale of someone who loses his direction in life but still manages to move on.
Other songs, such as About You, Mercury Records and Before Hitting the Ground, let listeners feel as if they are reading a graphic novel. "The concept for the album was very clear. It is a very personal album because all the songs and arrangements were from my ideas," Guo says.
"I believe that music functions like a painting. If the listeners can imagine images while listening to a song, the song would be very successful."
The success of the album has also allowed the singer-songwriter to interact with his fans through live performances for the first time in his career.
A few years ago, before he started working on The Silent Star Stone, Guo watched a live show by a European band in a small live music venue in Beijing. Before the show, Guo had no idea about the band.
"But I fell in love with their music after the 90-minute show. It was magical and I imagined the day that I could have my own show," he recalls.
Owing to the success of his new album, Guo went on his first national tour during his 12-yearlong music career, traveling to 15 cities between October and December last year to promote the album. He released the vinyl version of the album on May 25.
"It was my first national tour and I met my fans, mostly young people. It was winter and when I saw the audience waiting outside the venue hours before the show began, hoping to get the best spot to enjoy the music, I was very touched. I had never expected that people are still so enthusiastic about watching live shows," recalls Guo.
"The venues were small and I could see their faces. The shows were not perfect - I forgot lyrics at times or didn't have a good control of my voice. But we all had a great time together."
While being asked about his album's nominations at the 28th Taiwan Golden Melody Awards, he says seating among pop stars at the ceremony was "surreal". Guo says that the success of his latest album has motivated him to come up with more original material.
Born in Huaihua, Hunan province, Guo grew up in an environment filled with music as his father was a composer and his mother a dance teacher. In 1998, Guo came to Beijing to study music before graduating from the Beijing Contemporary Music Academy in 2005.
He says that he enjoys listening to various genres of music, especially those from the 1960s and 1970s which "is pure and doesn't try too hard to please everyone".
"Music allows me a space to dream and record what I see and hear in my life, for example, a man walking by me with a sorrowful face, and all those fragments will become sources of my music," he says.