Singers eye crossover success
Share - WeChat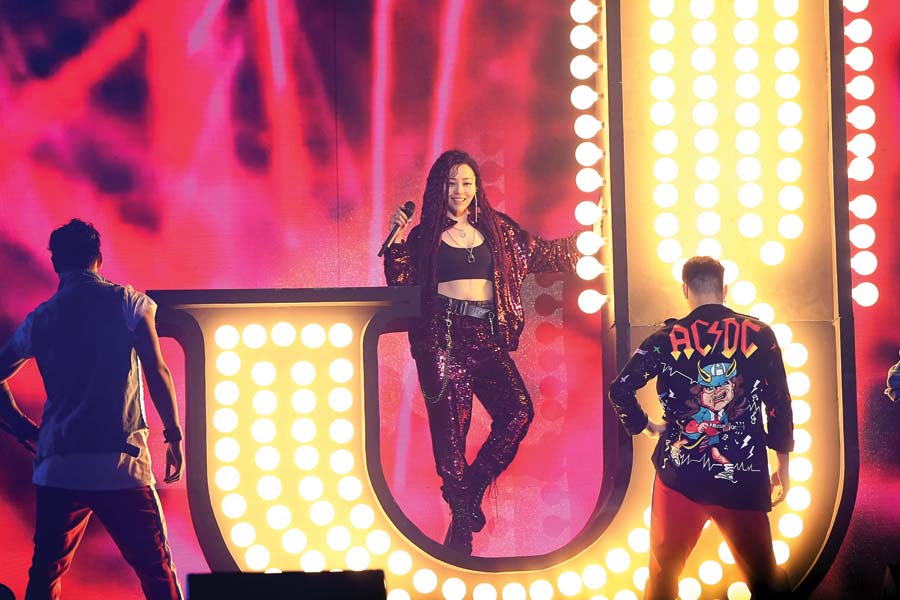 UK pop star Jessie J recently walked away the winner of the sixth season of China's televised singing competition, Singer.
Many fans were shocked, as the 30-year-old star already has international hits under her belt and even had stints as a judge on the UK and Australian versions of TV singing show The Voice.
"Last year I was asked to compete in a singing competition in China. Performing alongside the biggest established singers/artists across Asia. I was the first international artist to ever be asked to compete. An honor alone," explained Jessie J, real name Jessica Ellen Cornish, in a celebratory post on Instagram.
"I know a lot of people were shocked when they found out. Like why would I compete in a singing competition ... I'm probably the least competitive person I know."
Besides agreeing to do the three-and-a-half month stint in China because of a love for music, the singer-songwriter saw it as "an opportunity to bridge a gap between two cultures".
It presented a platform "to see a Western performer and hear music some had never heard before and vice versa", and for "the performances to be seen by millions outside of China and vice versa", she said.
Jessie J may be the biggest international name to break through to the Chinese market through a TV show, but perhaps not for long. Her China exposure caught the attention of American R&B singer John Legend, who, via a post on Weibo in February, showed interest in the competition.
"Wonder what place I would be if I were on the show?" Legend asked.
Back in 2012, Malaysian singer Shila Amzah gained fame in China by winning Asian Wave, a similar reality singing TV show. She further cemented her popularity by participating in the second season of I Am a Singer in 2014.
With artists from abroad winning the hearts of Chinese audiences, it looks like the stage is set for a musical showdown between East and West. Or is it?
Jive Lai, general manager and head of marketing for music services consultancy firm Outdustry, believes there is indeed a growing appetite in China for English-speaking performers.
"If we look at the case of Jessie J, not only was she the champion for three consecutive weeks on the show, she also won the competition. Based on the format of the show, it's clear the audience wants to keep her there," said Lai.
"This shows there is a place for international artistes, even on Chinese TV shows. Language should not be a barrier as music is a language of its own."
However, Lai did concede that compared to other foreign languages like Spanish or French, singers using English would have an easier time reaching Chinese audiences.
Mandarin songs are still mainly what Chinese audiences want to hear, said Matthieu David-Experton, CEO of Daxue Consulting.
"Songs in Mandarin still constitute most of what Chinese audiences listen to. And even then, it's mainly those living in first-tier cities that are more likely to listen to English-language music, be it jazz, pop or rock," said David-Experton.
Lai, whose work at Outdustry involves her handling the marketing duties for international artists in China, agreed. She estimated that non-Chinese songs currently form "about one-fifth" of what audiences in China listen to.
"But popular musical variety shows are a powerful platform to promote both Chinese and Western music to Chinese audiences," said David-Experton. He added that with the rise of online streaming services, it would open up access to these songs and could lead to Chinese audiences developing more diverse tastes.
"The development of online platforms where people can publish their own creation led to a rising popularity and creativity of independent musicians," said David-Experton.
The increasing ease with which content is shared could potentially see a crossover star coming from Chinese shores. As international musicians find a sizable niche in China, some believe that Chinese performers could make waves abroad too.
David-Experton pointed out that Chinese productions mainly succeed in countries with significant Chinese diasporas, such as Malaysia and Singapore.
"It can be difficult to translate music for overseas audiences, with the language barrier and a lack of visual promotions for some," he said.
South Korean pop sensation Psy is perhaps the best example of an Asian artist who has maximized the power of visuals. The 2012 music video for Gangnam Style went viral and broke all sorts of records, making it one of YouTube's most-viewed clips and an international smash hit.
In fact, David-Experton said the popularity of Korean pop music, or K-pop, has even helped Chinese performers reach audiences abroad.
"Based on US iTunes charts and news, Chinese K-pop artists like Wu Yifan (or Kris Wu), Lu Han and Zhang Yixing have landed No 1 singles on the iTunes charts," he said.
"But of course, there are also Chinese artists who are famous abroad for their classical music performances, such as Yuja Wang and Lang Lang."
David-Experton feels Chinese production styles need to catch up with the sophistication of regional counterparts in South Korea and Japan before China might produce its own viral crossover hit.
Jane Zhang, another Chinese TV singing show sensation, has made attempts to crack the overseas market. The 34-year-old singer has collaborated with established US producers like Timbaland, and she made her American television singing debut in 2009 on The Oprah Winfrey Show.
Lai said the proliferation of overseas content has influenced Chinese performers' musical styles.
"I can hear the influence on artistes here who are open to more Western production styles. I'd say they are keeping pace with their international counterparts," she said. "I think we do have the talent in China to create crossover artistes and material."
With some minor success already being charted abroad, it is only a matter of time before China produces a full-fledged crossover sensation.