Flavors with a dash of delight
Share - WeChat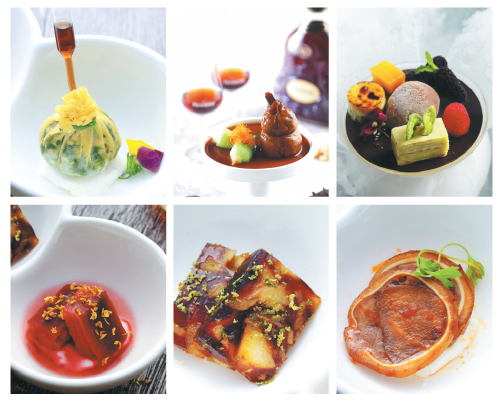 When it comes to combining the tastes of the southeast with a little spirit, Chinese chefs have never been shy about adding a little cognac. Li Yingxue reports.
In 1859, the first shipment of Hennessy arrived in Shanghai, marking the start of China's fondness for combining French cognac with delicacies from south of the Yangtze River.
More than 150 years later, Hennessy invited four popular Chinese chefs to rediscover the beauty of food from the southeast and add a dash of cognac for good measure.
The four chefs - Du Caiqing, Chinese master chef at the Hyatt on the Bund, Shanghai; Gao Xiaosheng, Chinese executive chef at the Pudong Shangri-La, East Shanghai; Wang Yong, executive Chinese chef at the Four Seasons Hangzhou at West Lake; and Zhang Shaohua, executive chef at the Park Hyatt Ningbo - teamed up to host a gala dinner presenting traditional dishes from south of the Yangze River with a modern twist in Shanghai on May 21, as part of the annual Hennessy and Meals dining event.
"All the dishes we have designed, from the cold dishes to the desserts, are typical foods from either Shanghai, Hangzhou or Ningbo, and all are made using local ingredients," says Du.
Du designed his cold dishes - sweet lotus roots with osmanthus flowers, fish jelly with Pu'er tea, and smoked bean curd with kalimeris - to compliment Gao's pickled pig ear and pig tongue.
Usually fish jelly is made of crucian, but Du uses cod instead of carp to give it a fresher flavor. The jelly is made with a fish-and-shrimp soup and Pu'er tea, which gives it a dark red tinge and distinctive tea flavor.
"I put some lemon peel on top of the jelly to lighten the flavor of the dish," says Du. He uses tofu skin to cover the smoked bean curd with kalimeris, and adds a drop of vinegar and sugar.
Wang upgrades the Song Sao (sister-in-law) fish soup by using a white gravy base instead of a light soup, to which he adds sliced cucumbers and carrots.
"Traditionally the soup is light, with a bit vinegar and pepper, but I chose to make it a heavy soup that's also freshened by the cod that I roast first, before peeling off the crunchy parts," Wang says.
Most Popular