Getting hitched the way they want
Share - WeChat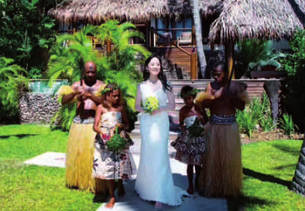 After all, an overseas wedding is still novel and perceived to be more expensive, he added. As such, exotic wedding photos will stand out on WeChat news feeds and win the envy of friends.
Zhang said she felt bored during her friend's wedding last year. She also noticed that the bride and the groom did not look like they were enjoying their big day. Instead of being a joyous celebration of the couple's union, the event looked "no more than a show that they were obliged to present".
As Zhang and her fiance, who is a Beijing native, explored other options, they came across numerous ads on overseas wedding and articles about celebrities holding their weddings on an island in Thailand, Indonesia or Italy. According to Ctrip, the wedding of Taiwan pop star Nicky Wu and Chinese mainland actress Liu Shishi in March 2016 drove the sales of Bali wedding packages up by 60 percent the following month.
"Once we decided on having an overseas wedding, everything fell into place," Zhang said.
"It saves us from the complexity and tediousness of a traditional wedding, which can be intimidating when the two families are not from the same place. And because this overseas wedding is not as grand a ceremony as a traditional one held at home, all we have to consider is our budget and the theme."
Gai from QWedding said the rise in demand for overseas weddings is a result of the upgrade in China's domestic consumption.
He also noted that the most popular traditional wedding ceremonies in China in recent years feature a fusion of traditional Chinese elements with Western trends. Besides the traditional wedding rituals and lavish banquet dinners, a wedding in China is now considered incomplete without choreographed photo sessions and honeymoon trips.
Gai started to offer couples customized photography services in Bali in 2009. Faced with an increasing demand for extended wedding services, he set up QWedding in 2013. Business of the Shenzhen-based company has since taken off.