Travel perks help Tibet work wonders
Share - WeChat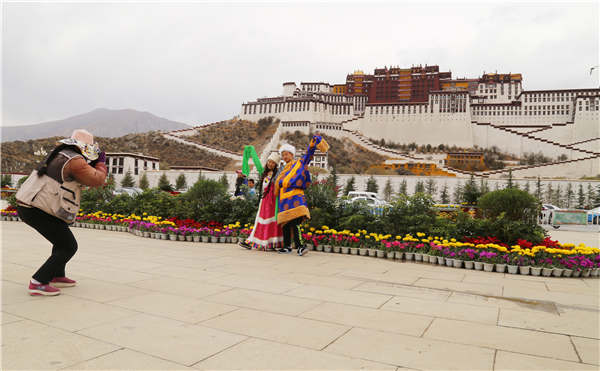 The Tibet autonomous region has extended a package of favorable travel policies it introduced earlier this year to boost winter tourism, in a bid to ride the wave of success that saw its seasonal visitor numbers soar.
Tibet's unique natural landscape and range of folk customs have long made the place an appealing destination for visitors both from home and abroad.
In 2017, Tibet received 25.61 million travel visits, a rise of 10.6 percent over the previous year. This helped reverse the downward trend seen in previous years, where the region had been struggling with sluggish winter visitor numbers.
To tap into its rich winter resources, Tibet developed a package of favorable policies for travel and accommodation in a bid to revitalize the winter tourism season from February to April.
All of Tibet's A-rated scenic spots offered free entry during this period, while the launch of many new routes for chartered flights and special trains to the region also helped drive tourist numbers to Tibet to a record high.
Under the package of incentives, the region witnessed an unprecedented boom in winter tourism numbers. It received 2.67 million visits by travelers during the first four winter months of this year, according to a report by the Tibet tourism development commission.
Visits by inbound tourists grew 50.5 percent year-on-year to 40,000 during the same period, while domestic visits surged 63.7 percent to 2.63 million.
Total tourism income hit 3.5 billion yuan ($551.7 million) in the same period, an increase of 62.8 percent.
Riding on the wave of the winter tourism promotion, the peach flower festival held in Nyingchi on March 29 had packed in 657,000 tourist visits by early April, a rise of 62 percent compared with the same period the previous year.
The festival also saw tourism income reach 520 million yuan, an increase of 57 percent compared to the previous year.
Looking to maintain this momentum, Tibet tourism authorities recently announced they would extend many of these travel incentives until the end of June 30.