Getting hitched the way they want
Share - WeChat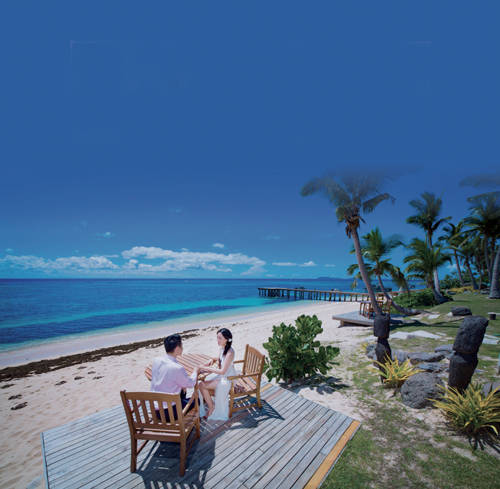 More and more Chinese couples are choosing to ditch the traditional Chinese nuptial celebrations in favor of overseas weddings that are deemed stylish and intimate.
Zhang Boya, 28, and Huang Zhan, 27, plan to have their wedding in Bali, Indonesia, in May next year.
The couple said they were initially unsure about the kind of wedding they wanted, but later decided on a cozy celebration in a foreign country after attending traditional nuptial celebrations in China that were defined by lavish banquets where people hardly knew one another.
"I prefer a small and intimate wedding with only my closest family members and friends," said the bride Zhang who was born in Taiyuan, Shanxi province.
While details of the event have yet to be confirmed, the couple has set aside a considerable budget of 350,000 yuan ($54,500) to host 18 family members and friends in the popular tropical holiday destination.
Zhang and Huang are just one of many couples in China who are choosing to hold their weddings overseas. In a recent survey conducted by Ctrip.com, one of China's leading online travel services, nearly 60 percent of young Chinese indicated that they plan to get married abroad.
According to Gai Yongbo, founder of QWedding, the overseas wedding market in China has been growing at an annual rate of 200 percent over the past few years. In addition, online searches for overseas wedding services on Baidu.com had also surged by nearly 250 percent in 2017 from the previous year, according to an industry report released by the Chinese search engine.
Industry players have also reported a similar boom in sales. Hua Zhenxiong, the director of QWedding Shanghai branch, said their orders tripled in 2017. Its sales in January also surpassed last year's first season figures.
"There are many reasons behind the soaring popularity of overseas weddings, but the most important one is that young couples hope to avoid the tediousness of traditional weddings at home," Hua said. "Due to traditions, they have to invite people, such as friends of their parents or remote relatives whom they don't even know."
Jon Santangelo, the co-founder of wedding boutique Chariot, shared a similar insight and said: "An overseas wedding offers them a decent excuse to avoid inviting extraneous guests, enduring tedious routines and getting exhausted in countless toasts."
Psychology also plays a part in choosing an overseas wedding over a traditional one at home, Santangelo said.