Innovators wake up and smell the coffee
Share - WeChat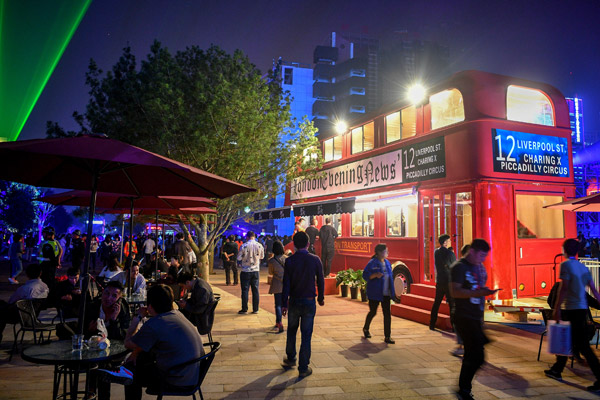 Xi'an Inno Startup Wonderland is harnessing the cultural power of coffee to attract China's young entrepreneurs and fuel business innovation in the capital of Shaanxi province.
The largest of its kind in western China and a rare model nationwide, the self-styled coffee street opened its doors to new and creative industries and startup incubators in September.
The idea is to provide flexible and convenient workspaces for entrepreneurs to meet and work alongside their peers, as well as provide on-the-ground support for startup companies, according to Zhai Rui, general manager of the zone's 3W Coffee.
When China Daily reporters met with Zhai, one of the 300 teams that rent space at the 1,000-square-meter coffeehouse-cum-incubator were having a meeting around a table strewn with papers and laptops. Monthly rent works out around 600 yuan ($95) per person.
She said 3W can assist newly launched companies with training, sourcing, marketing, recruitment and general office services, before helping them fly the nest once they are more fully established.
The zone draws inspiration from the Silicon Valley model in which young hopefuls stalk local cafes for networking opportunities, an image so familiar as to spawn clickbait articles with headlines like "Best cafes for spotting venture capitalists".
The model also has much deeper historical roots. In 17th-century Britain, the first coffeehouses were known as "penny universities", as the vibrant collegiate atmosphere within gained anyone who bought a cup deep insights into the news and ideas of the day.
As historian Matthew Green tells us in his essay The Lost World of the London Coffeehouse, "early coffeehouses all followed the same blueprint, maximizing the interaction between customers and forging a creative, convivial environment".
Xi'an Elite Robotics moved into the coffee street to take advantage of its innovative business environment, according to CEO Wang Hui. He takes clients and partners to the nearby cafes for meetings.
"We talk like friends instead of business partners," he said. "The relaxing atmosphere can break the wall between strangers and help us to know more about each other."
Back in 2015, about 300 coffee-themed makerspaces opened in cities across China, including Beijing, Shanghai and Guangzhou, as the nation kicked off its campaign to boost innovation and entrepreneurship.
However, according to the owner of Geek Coffee in Beijing's high-tech zone Zhongguancun, many cafes there had closed by the second half of 2016. "Too many participants rushed into the business, making the competition too fierce," the owner, surnamed Wang, told Huxiu, a tech-business commentary website.
Many coffeehouse owners do not define themselves as being focused on the catering industry, but rather stress their role of providing a sociable space for networking and communication among entrepreneurs and investors.
Geek Coffee's Wang said most of his cafe's income comes from renting office and activity space, in addition to selling beverages.
According to Yang Rong, deputy director of the Xi'an Pioneering Park Development Center, 28 makerspaces in the form of cafes have launched operations on the street, while another five cafes have also moved in, together with 27 startup teams who have opened cafes as business ventures.
Overall, the goal is to boost the Xi'an brand as a modern, global and fashionable city, Yang said.
One way this is being achieved is a citywide obsession with Starbucks, a brand that Xi'an Party secretary Wang Yongkang says reflects how appealing a city is to foreign investors, and how open its economy is.
In 2016, there were about 40 Starbucks outlets in Xi'an, and the plan is to eventually see that rise tenfold.