Extreme sports market on right track
Share - WeChat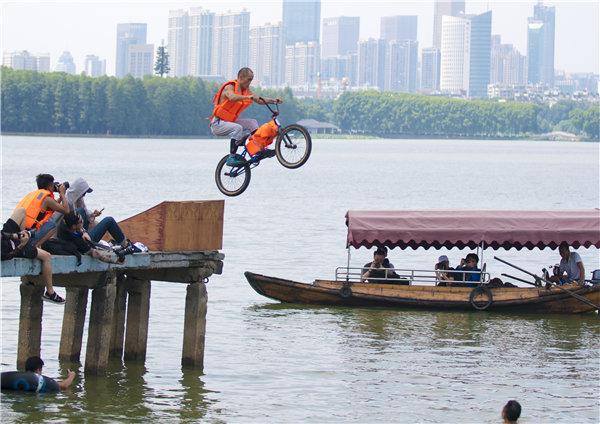 The extreme sports market in China is gaining favor in the capital and experts believe the industry will mature quickly.
"Although it started late, the domestic extreme sports market is on the right track," said An Fuxiu, founder of Sportbank, a Beijing-based sport-related investment consultancy.
"A growing number of companies and governments have put a lot of effort into adding an extreme sports element to the design of characteristic towns," she said.
Characteristic towns are those that use a special theme - such as tourism, logistics, manufacturing, technology or culture - to drive the local economy. The country is planning to create 1,000 such towns by 2020.
"One successful case is Wuzhizhou Island in Hainan province, which has an annual revenue of more than 1 billion yuan ($159 million)," she said. "The major business there is diving. The island is also equipped with a number of extreme sports activities such as hot air ballooning."
An said that during her last visit in November, considered an off-peak season for diving, the spot was still packed with tourists and divers.
"One significant feature of extreme sports is that they are addictive. If you try once, you want to try again. And that is why the travel site needs to introduce extreme sports contests every year," she said. "You may only want to visit a place once in your life, but if there is an annual contest, then you have to go every year."
Extreme sport is a promising trend for characteristic towns, and sport-oriented characteristic towns will be an important part of the business."
An also explained the major obstacles in developing extreme sports in China.
"The fundamental problem is we don't have enough people participating in sports activities in China, let alone extreme sports," she said. "Compared to mature markets overseas where people grow up surfing, diving or skating."
An said a lack of infrastructure in the domestic industry was also a major obstacle to developing such a business.
"Another problem comes from the infrastructure side when developing such sports. One significant feature of the extreme sports market is that it requires a longer industrial chain, including land, equipment manufacturers and third-party service providers," she said.
Promotion of such sports is also facing technical hurdles as livestreaming, photography and filming all require high cinematographic skills and professional gear.
"It is a shame if an exciting contest fails to be presented to the audience properly, and the ventures are looking to acquire professional teams overseas," An added.
(China Daily 04/07/2018 page9)