Eat Beat
Share - WeChat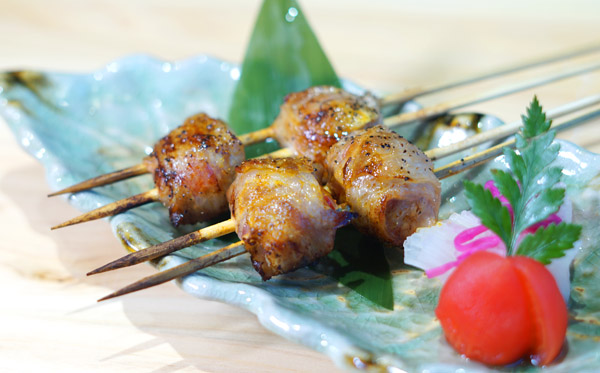 3 New-style Izakaya
Since the Japanese restaurant Yotsuba opened in 2004 it has gained a reputation for serving some of the best Japanese food in Beijing. It has become a benchmark for Japanese restaurants in the capital for its rigorous technique, fresh ingredients and fine service. At the end of 2016 Yotsuba opened its first spinoff brand, Man Yo, near Jianguomen, which was dubbed as a new-style izakaya. Man Yo has expanded to western Beijing recently, opening a new branch in Zhongguancun. Man Yo's atmosphere is more laid back than that of Yotsuba, with a menu including more than 60 different dishes priced at 100 yuan or less, making it a great-value choice.
Signature dishes include high-quality seafood robatayaki and a wide selection of creative Japanese grilled dishes. Here are a few recommended dishes: Black pork and cherry tomato skewer (48 yuan): The black Iberian pork has a rich, meaty taste but is not greasy, combining well with the sweet-tart flavor of cherry tomatoes.
Roast crab meat with scallions (98 yuan) is a traditional izakaya dish but is rarely seen in Beijing. It employs Japanese crab sauce, hairy crab meat and scallions. A dish not to miss is charcoal grilled free-range chicken (78 yuan) in that the dish uses chickens freshly slaughtered on the day, and these chickens are only slaughtered once they reach one year old, meaning the meat has more flavor than that of regular chickens.
Man Yo says it uses the choicest cuts, meaning that only two portions can be made from each whole chicken. The chicken is seasoned simply with sea salt, and once grilled it goes perfectly with beer. Or try just a poke bowl (180 yuan) which may take over your meal with cooked sushi rice topped with bluefin tuna, salmon, eel, caviar and tamagoyaki.
Alongside these signature dishes, Man Yo offers a wide selection of fresh sashimi, with a range of platters featuring three to six different kinds of seasonal seafood (125-380 yuan).
Man Yo's looks come courtesy of the designer Harada Hiroyuki. Many of its furnishings and decor, including custom designed tableware, are imported from Japan. The dining chairs come from the Italian high-end furniture brand Cassina, the aim being to combine comfort and quality.
Man Yo (Zhongguancun branch)
A Block, 104 Raycom Plaza, Building 2, Kexueyuannanlu, Haidian district, Beijing
When: Open daily, 11:30 am-2 pm, 5:30-10 pm
Most Popular