Classical Shanghai area fueling debate
Share - WeChat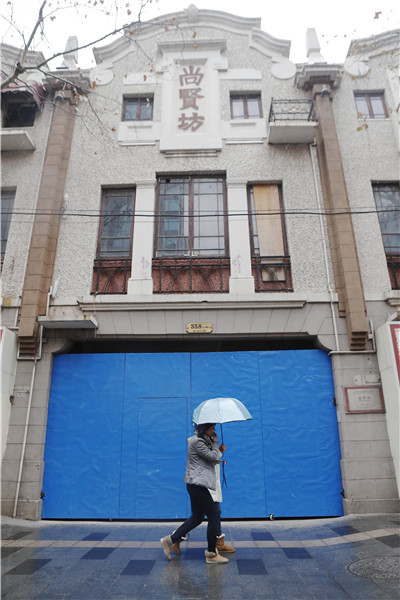 Controversy in Shanghai surrounding the preservation of a typical shikumen neighborhood - a residence block with courtyards and gates featuring stone frames - has shed light on the city's resolve to protect its historic buildings.
But experts are calling for more transparency to ensure public support.
There was a public outcry in early January when watchful citizens posted photos online of the Shangxianfang neighborhood being partially leveled. Two of its four rows of buildings tucked away in the city's commercial hub suddenly disappeared.
Circulating online along with before-and-after photos were screenshots of the developer's pledge during a television interview in 2015 to restore the buildings on their original sites.
In response, a local heritage authority said the two buildings had not been bulldozed, but disassembled piece by piece to ensure their safety, as subway construction is taking place underground.
The buildings will be restored on their original site using as much of their original building materials as possible, said Li Kongsan, director of cultural relics protection for the Shanghai Administration of Culture Heritage.
"The disassembly is inevitable because the buildings sit atop South Huangpi Road Station, which is under construction," said Zhang Ming, one of the key architects responsible for the renovation of Shangxianfang.
"It's the only way to prevent construction of the subway and the architecture from negatively affecting each other."
Located in downtown Huangpu district, Shangxianfang was built in 1924 and covers 6,120 square meters. It was among the first areas listed among Shanghai's outstanding historical buildings and cultural relics protection units after 1989.
The residence was reconstructed at Shangxiantang, a former Christian cultural facility founded in 1903 by US missionary Gilbert Reid (1857-1927).
As a typical shikumen residence, Shangxianfang features classical lane-style homes. Specifically, there is Chinese matou, or horse head-style gables, in Baroque style on the external facade of the main lane on Huaihai Street. The main hall of the lane features full-length windows and decorative wooden trimming, and behind the main lane are 71 apartments in 57 two-story buildings.
However, life in Shangxianfang isn't as ideal as it sounds, according to Li. "The homes don't have any plumbing," he said. "Residents have to use chamber pots - and empty them."
Li added that overuse of each building is another problem, with more than five families often sharing one block, resulting in unsanitary conditions and fire hazards.
Due to the poor living conditions in Shangxianfang, the city government transferred its land-use rights to developers in 2003 and has been helping relocate residents since 2014.
However, the disappearance of two buildings aroused fierce debate among citizens and experts.
"As an example of a shikumen neighborhood, Shangxianfang is irreplaceable, and if dismantled it cannot be exactly restored," said Lou Chenghao, an expert from the Shanghai Shikumen Cultural Studies Committee.
In response, Zheng Shiling, an expert from the Chinese Academy of Sciences responsible for the Shangxianfang project, said the decision to disassemble was based on more than 10 seminars over several years attended by experts from various fields, "which is professional and prudent".
"Historic buildings are different from normal cultural relics in that they have a finite life," Zheng said. "Usually, they need renovation every 25 years, especially structures like Shangxianfang, which is made of bricks and wood and is easily compromised by insects and moisture."
He said Shangxianfang is now nearly a century old and is in urgent need of renovation.
To retain the original building features and style, all components are to be entirely removed, classified by number and stored in three warehouses across Huangpu, Pudong and Chongming districts.
"The original materials will be preserved, although most cannot be used again due to their poor condition," Zheng said. "For example, the old bricks are really special, different from the ones commonly used now."
While the explanation from the authority has been well received, Lou has suggested the city government improve publicity regarding each preservation effort, to win support and avoid controversy.
Shanghai has more than 8 million square meters of shikumen buildings, which will gradually be listed as 19 historical feature districts under protection, Zheng added.
(China Daily 03/09/2018 page7)