Government pushes formula makers to raise product quality
Share - WeChat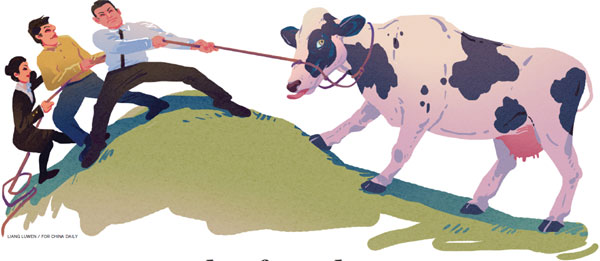 China's baby milk sector is still trying to recover from a loss of confidence caused by a safety scandal 10 years ago, as Li Hongyang reports.
The government's campaign to regulate the baby formula milk industry and restore consumer confidence which was badly damaged by a scandal in 2008 has seen nearly 50 percent of product categories eliminated from the market in the past two years.
The sale of newly made unregistered products was banned from Jan 1, under a regulation released by the China Food and Drug Administration in June 2016. However, existing stock can be sold until it reaches its expiration date.
Now, qualified companies, irrespective of whether they are domestic or foreign, are allowed to register three brands with three age categories, resulting in nine products each in total.
Sales of milk formula have risen rapidly since 2015, when the Chinese market accounted for 43 percent of global sales, and will continue to rise until at least 2020, according to market researcher Euromonitor International.
Meanwhile, the Qianzhan Industry Research Institute, an independent think tank in Beijing, said sales reached 73 billion yuan ($11.5 billion) in 2015.
The CFDA's website said the regulation is intended to reduce the number of formulas that are similar but claim to have different functions, and also force unregulated companies whose products are made by a third party out of the market.
In 2016, an estimated 2,000 formulas made by 103 domestic companies were available in the Chinese market, but by the end of last year, the number had fallen to 743 products from 93 companies registered with the CFDA.
In addition, there were 209 formulas made overseas by 37 registered foreign manufacturers, according to the administration's media and publicity office.
Song Liang, an independent dairy expert, said the regulation has raised the bar for China's formula milk industry because it will eliminate a number of smaller brands and unregistered manufacturers, which will force larger companies such as Feihe International Inc, Yili Group and Beingmate Baby& Child Food Co to focus more on product research and brand reputation.
"This will help the government to tighten its control of the industry and boost consumer confidence in local brands," he said.