Nation moves to avert demographic time bomb
Share - WeChat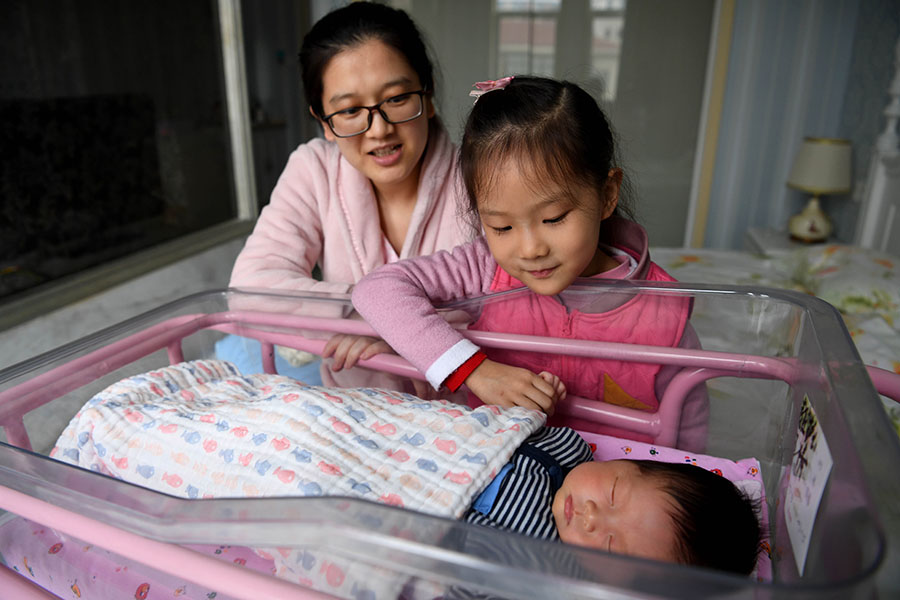 The government is looking to raise the number of births
Yang Dan is envious every time she hears that a woman she knows is having a second child. However, the mother of a 5-year-old boy in Panjin, Liaoning province, is adamant that she will not extend her family; at least not for a few more years.
"I think of my old age sometimes. If I were to have a second child, my husband and I would have two children to take care of us in turn when we are too sick or old to cope. Hopefully, they would not feel too burdened," the 33-year-old said. "But the pressure of having a second child is too huge for us to bear at the moment."
Many women are echoing Yang's opinion. The number of births is declining in China, and there were approximately 17.23 million last year, about 630,000 fewer than in 2016, according to statistics recently released by the National Bureau of Statistics.
In 2016, the central government relaxed the family planning policy, which restricted most couples to one child, allowing all families to have two children, while some are allowed to have more. Moreover, a range of other measures have been implemented to encourage more births.
There is growing concern that the country may experience a demographic time bomb, because in the decades to come the number of young people is likely to fall below the number required to maintain an optimum level of employment. That has led some experts to question whether the second-child policy has been effective.

According to the National Bureau of Statistics, people age 60 and older accounted for 17.3 percent of the population last year, compared with 16.7 percent in 2016.
If the current population level is to be maintained, each woman has to give birth to an average number of babies.
The number, or "replacement rate", is 2.1 in developed countries, but in less-developed countries it is 2.3, because of higher death rates for both children and adults.
Last year, the total fertility rate in China was 1.615, which was far lower than the required replacement rate of 2.3.
The number fell by 0.059 from the 2016 level, according to Liu Houlian, a researcher at the China Population and Development Research Center, who noted that the decline simply reflected a short-term fluctuation.
So, why are fewer couples opting to extend their families?
Many cite the financial pressure that results from having children, the inescapable interruption to career development and a decline in traditional beliefs.
On Monday, Yang Wenzhuang, chief of grassroots family planning supervision at the National Health and Family Planning Commission, quoted the results of a recent survey conducted on the commission's behalf by a third party.
He said the survey indicated that more than 82 percent of couples age 35 and younger gave the increased financial burden as the main reason for not having a second child. Another major reason was that couples have no time to take care of an extra child, according to Yang.