Fairy-tale blending
Share - WeChat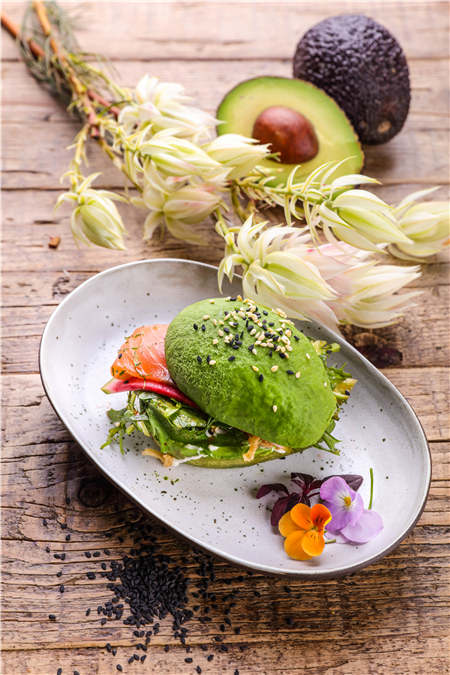 "Croissant pizza" is one dish that represents this approach, combining as it does a typical French pastry with American style toppings - the crisp crust and different types of meat give it a rich taste, while the small size of the croissant means it only needs two bites to finish.
Balancing rich flavors with low calories for their dishes, Blufish also serve salads, snacks, soup, pasta, egg benedicts and paella.
According to Wang, they are testing brand-new "pink dishes" and plan to update the menu in March.
Just across the street from Blufish, the second restaurant by Tomacado opened in January, offering an upgraded mix of flowers and food.
Floristry and cooking were once the two favorite hobbies of Kong Jie, owner of Tomacado. She took it one step further in 2015 and quit her job in finance and to open her first Tomacado restaurant in Beijing's Sanlitun area, which soon became popular on the internet because of its floral dining environment.
"I didn't just copy the first one to create the second restaurant. I changed the style a little bit. If the first Tomacado looks like a young girl, then the second one is more like a mature woman," says Kong.
The new Tomacado is divided into several areas by different floral arrangements. "The girlfriend zone is mainly decorated in pink, while the gentleman's zone looks like a jungle with palms and ferns," says Kong.
"Tomacado" comes from the words tomato and avocado, two ingredients that Kong uses most when she cooks for her daughter, and also the most common on Tomacado's menu.
Every dish Tomacado creates uses edible flowers, and fresh vegetables are also regularly on the menu. Kong often draws inspiration for dishes from life and then adds them to her menu. "To use chili powder from my hometown in Guizhou province as a dip for roast chicken was my father's suggestion - and it turned out to be one of the most popular dishes here," say the 35-year-old.
Besides managing her restaurants, Kong also designs peripheral products for female customers, such as her latest design that she recently had printed - a pink notebook.
Flowers are everywhere in Tomacado, and in the entrance Kong has a small florist's shop. She not only hopes that men will buy flowers for their girlfriends or wives, but also that women will buy a beautiful bouquet to please themselves.
Most Popular