Fairy-tale blending
Share - WeChat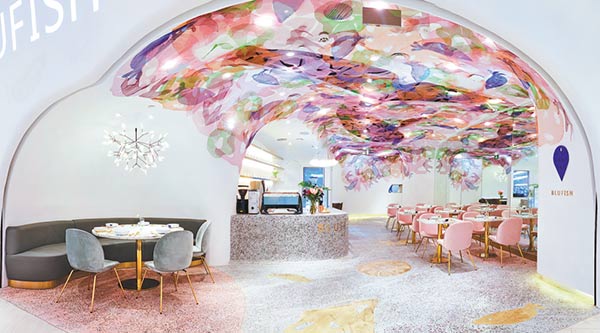 From Blufish's pink undersea world to the florally accentuated Tomacado, a whimsical approach to dining is sweeping Beijing's restaurants. Li Yingxue reports.
From pink ceilings to pink chairs, as soon as you walk into Blufish, the little girl trapped inside of you is readily summoned.
And you can't resist whipping out your phone, and sharing photos of this strange, pink world with your friends on WeChat and Weibo, and you're sure to get dozens of likes.
Blufish is a newly opened restaurant featuring pink decorations and delicate, brightly-colored food in the Wangfujing area of Beijing. In the past year, several new restaurants aimed at attracting female customers have popped up, presenting a fine dining environment for "besties".
Designed by SODA Architects, the interior space of Blufish is predominantly white in color but intertwined with pink designs partially covering the ceilings and extending down to the floor to create a fluid and ethereal underwater world.
The curved surfaces in the middle of the restaurant divides the space into four separate "submarine caves" which house dining areas.
The designers used hand-drawn fairytale patterns featuring coral, aquatic plants and fish joined to mesh that hugs the curved white surfaces to create a magnificently translucent and submerged visual effect.
"People will feel relaxed as if they are experiencing a Mediterranean breeze from Southern France here," says Alex Wang, owner of Blufish.
Blufish has set out to provide French cuisine in an American style. Wang aims to create an "effortless eating" reputation for Blufish as he believes that high quality food can be presented in a simple way.
"People living a fast-paced modern lifestyle can enjoy a range of healthy, delicious, delicate and creative dishes," says Wang, who owns three cafes named Someday in Tianjin.
Most Popular