Moleskine sketches out plan for new Beijing cafe
Share - WeChat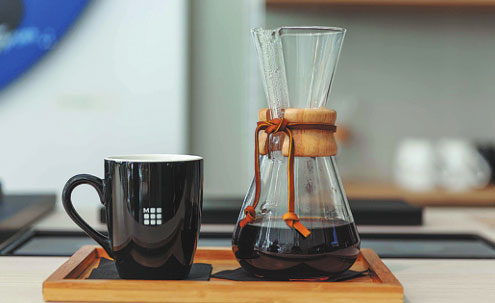 When it comes to luxury notebooks, Moleskine would be certainly among the most recognizable and popular brands around the world, but when it comes to cafe culture, the name may not yet ring a bell.
The Italian retailer actually opened its first cafe in the heart of Milan's thriving Brera district in 2016, creating a space that is part cafe, art gallery and retail store.
Now the first Moleskine Cafe in Asia has opened its doors to the public in the Sanlitun area of Beijing, a stunning open-concept space that plays on natural elements, dedicated spaces for creative expression and a minimalistic style.
The cafe takes the Moleskine store concept one step further-light wood, bright-white walls and warm colored furniture contrasted by black-and-white monochrome accents.
Roberto Bodoni, chief marketing officer of Moleskine, says the purpose of their cafes are to help support cultural exchanges and encourage self expression and inspiration.
"We see our cafe as a three-dimension version of our notebook-our blank space is where you can fill in the details of your imagination and thoughts," says Bodoni.
The concept drew inspiration from the literary cafes of late-19th century Europe, and Paris in particular, where artists, painters and writers used to chat together and exchange thoughts about life and the future.
In this age of connectivity, Moleskine intends to extend this concept to create a place where people can enjoy coffee and food, but "at the same time, they can share, study, or listen to great content in this place", says Bodoni.
Unlike the historical setting for their Milan cafe, the Beijing outlet is set in the capital's bustling Sanlitun area. The 150-square-meter space was designed by Kokai Studios in Shanghai, which were founded by Italian architects Filippo Gabbiani and Andrea Destefanis.
Bodoni says the Moleskine Cafe in Beijing will be a place to promote Chinese artists and designers as they plan to host events, talks and exhibitions there.
"Our purpose is not about making money. We want to be relevant to people and preserve and protect our cultural possessions so they will last for centuries and beyond," says Bodoni.
Moleskine Cafe held its opening party on Jan 24 and hosted a debate about how to drive creativity to have a meaningful cultural impact on China.
Today Art Museum director Gao Peng, founder and principal partner of MAD Architects Ma Yansong and Sheng Shidong, principal dancer with China National Ballet, were all invited to join the conversation. An exhibition by Ma titled Shanshui City is also being held at the cafe.
All the types of coffee served at Moleskine are authentic Italian brands, and the desserts have been co-designed by local and Italian team. Moleskine coffee beans and other coffee-making equipment can also be purchased there.
Moleskine CEO Lorenzo Viglione says the Beijing cafe represents a milestone for the company. "It presents our idea of creating a new platform for a creative lifestyle," says Viglione.
Most Popular