'Buddha-like' frog game leaps into hearts of young Chinese
Share - WeChat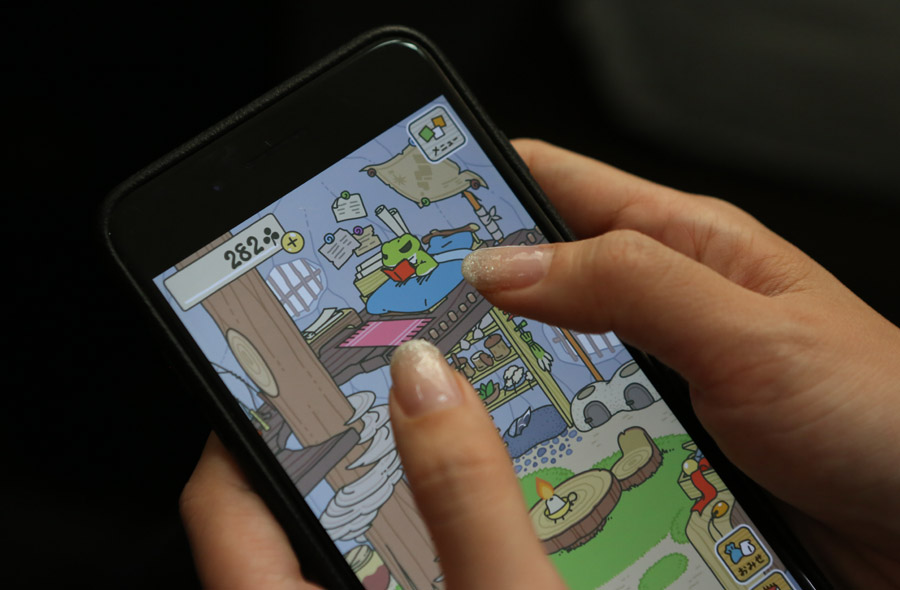 A hit Japanese game about a frog who regularly disappears on vacation has struck a note with young Chinese for its "Buddha-style" gameplay.
Travel Frog was the most downloaded free app on the Apple Store on Sunday, while the mobile game has been among the most searched topics on Sina Weibo this week.
The game centers on a frog that goes on trips around Japan and sends back postcards, and sometimes local delicacies. Players are required to do very little: They can grow and collect clover in a virtual courtyard as in-game currency, and help the frog pack for a journey.
Many people have praised the game for its slow pace, saying it taps the trend among younger generations in China to search out "Zenlike" activities.
"I wish I could be the frog I raised in the game as I would like to be able to go on a trip whenever I want," said Ge Yuan, 30, who works in Shanghai's Taihe economic zone. "It's like the life of a monk who lives life following his heart."
Yuan Linghuan, a postgraduate student at Tongji University in Shanghai, said her friend introduced the game to her three days ago.
"Everything is unexpected in life, just like the game. Whenever I launch the game, I don't know whether the frog is at home, reading, eating or writing letters," the 25-year-old said.
She said the design of the game is cute, while it requires no skills in fighting, which is good for female players.
"It's not a game that you will get obsessed with, as there is no ranking list among players," Yuan added. "All you have to do is to open the app to see if your frog is at home or on its journey, and it's not necessary to spend a lot of money buying gear to equip the frog for his travels, which differs from other role-playing games."
Like others players, Yuan said she feels like an elderly parent waiting for her children to return home.
"I feel like I'm the mother of the frog in the game. It's really interesting for a single girl like me, and raising the frog is a way of relieving stress," she said.
Many players regard the game as their spiritual sustenance, especially youth living alone, according to Ma Xiquan, a doctor of clinical psychology at Shanghai East Hospital.
"The frog brings a sense of satisfaction to the players," he said. "The game simulates the relationship of a traditional Chinese or Japanese family. Players can satisfy their emotions through the process of taking care of the frog."
Ma said the game reflects the low social demands of the players, and characteristics of the game that resemble a Buddhist lifestyle tally with the personality of people pursuing an easy life.
Developed by Japanese company Hit-Point, the game was included as a free download in the Apple store on Dec 6 and became an internet hit after being introduced to China in early January.
The game is available for iOS and Android systems, but the Apple store only offers a Japanese version while Android has Chinese and Japanese.
Xinhua contributed to this story.