City of the gods
Guangzhou is home to a heavenly host of divinities housed in terrific temples. It's a city of the gods-to the point that there's even a god of the city. The places where these indigenous deities dwell are places for the pious-and the merely curious-to explore to understand this spirited metropolis' spiritual side.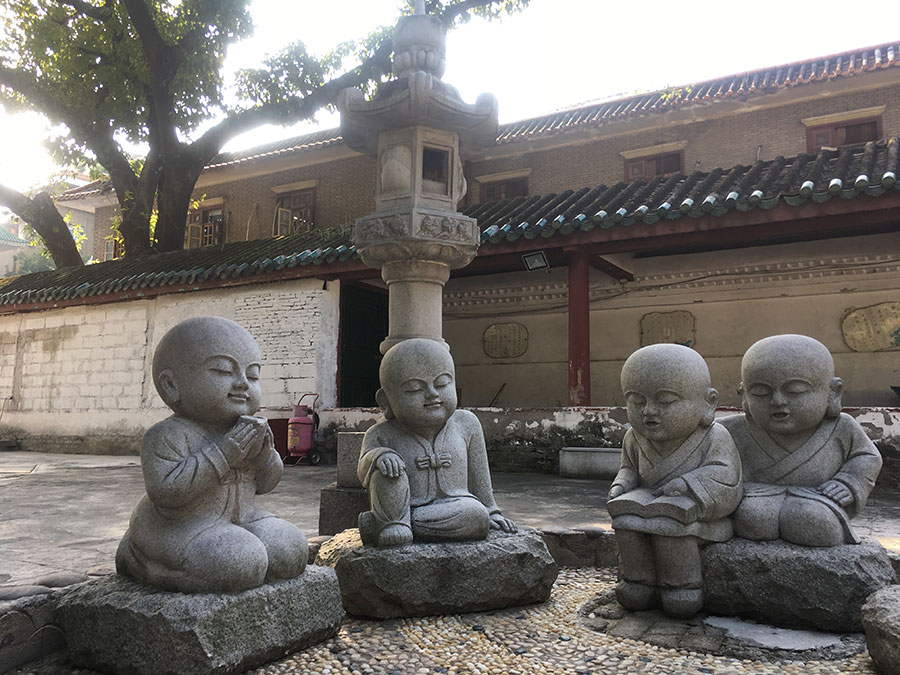 Guangxiao Temple
Guangxiao is a happy place-by design.
Visitors are greeted by a statue of the "smiling Buddha", or mile, at the gate.
The grinning deity is meant to remind worshipers to seek inner joy through Buddhism when faced with the suffering and change that comes with life.
The Buddha is a rendering of the legendary Budai, or Cloth Sack-a monk who wandered with his belongings in a bag, making friends and spreading joy.
It's said he wrote a poem upon his deathbed that reads:" I made many friends in the temporal world. Now, I'm going away."
Another Buddha honored at the temple preached with few words but often just grinned, suggesting spirit is sometimes more important than words when sermonizing.
A Buddha with a childlike face occupies the other side of the wall housing the mile.
The statue honors a monk who decided to guide his 999 elder brothers to become Buddhas.
He became one, too, upon succeeding.
Temple visitors officially enter through the Gate of Emptiness. But the compound inside is full-of ideas, stories and relics-intended to help us live more happily.
One hall is dedicated to Tang Dynasty (618-907) monk Huineng, who sought contentment through Zen.
It's said the illiterate genius encountered two monks at the temple, who were debating whether the wind caused a banner to flutter or if the banner's fluttering caused the wind. Huineng interjected-it was neither. Rather, people's perceptions created the illusions of a banner, its flapping and the wind.
In other words, the world doesn't exist beyond illusionary subjective experience.
Huineng's lack of scholarly training turned out to be a boon rather than a bane. He spoke in ways ordinary people could understand, which is largely why Guangxiao's philosophy spread regionally and even internationally.
Its jovial message even extends to the afterlife.
The chimes from an ancient bell tower regulate monks' daily activities, such as chanting.
It's said that when the bell rings 108 times in succession, the reverberations soothe the souls of those in the afterworld.
Guangxiao is indeed a happy place-in every sense-in this life and even the next.