You shape the pottery, and it helps you get into shape
Share - WeChat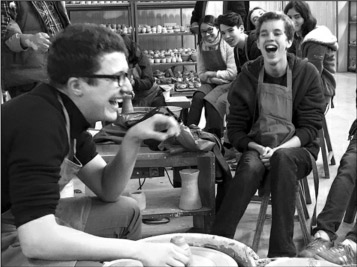 Marriage of two industries is meant to make everyone feel good
Pottery of various shapes and sizes jump into your eyes when you step into Sunrise Pottery Park.
Dogs play with one another on stone slabs set in pebbles, and chickens and ducks peck away at their food among the lush grass and trees that surround the park.
Quan Guirui founded the park, in Qinglonghu town, in southwestern Beijing, seven years ago.
"In those days it was little more than wasteland," Quan says.
The park has evolved into a pastoral getaway where you can blow off steam and bring your body and mind back into balance.
It covers about 6,700 square hectares and is tucked away in a vast forest.
In the park, visitors can go hiking, pick fruit, savor tea, read and make pottery.
Green vegetables have also been planted, offering healthy eating.
"We're trying to provide a healthy lifestyle that helps people stay in touch with nature and get a break from the fatigue of work," Quan says.
The park attracts about 5,000 visitors a year, most of whom go there through word - of - mouth recommendation, Quan says.
Her customers range from government officials to corporate employees and Chinese and foreign students.
Quan is one of many business people who have caught the wave of the increasing popularity of health tourism in the mainland, spurred on by the rude health of the national economy.
Last year five national government organs, including the National Health and Family Planning Commission, the National Tourism Administration and the State Administration of Traditional Chinese Medicine, issued guidelines on how health tourism should be promoted.