Chinese turn vacations into trips of healing
Share - WeChat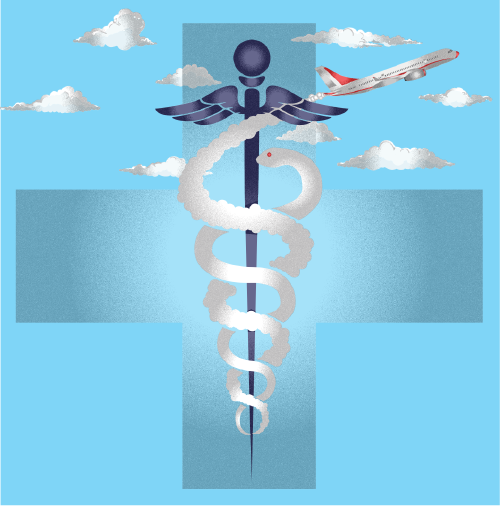 Flush with cash and conscious of their wellbeing, Chinese are turning their vacations into trips of healing
For Huang and his wife, it was to be either a holiday like no other, one that would change the course of their lives, or one for which they would have little to show as they returned home but photos and a few souvenirs.
"One of my friends suggested we give it a go, and we figured that if things didn't work out, we would just treat it as a vacation," says Huang, who did not want his surname used for this article.
He and his wife, who are from Changsha, Hunan province, had tried to conceive a baby through vitro fertilization several times but failed, and this trip to Thailand was going to be yet one more attempt.
Huang sought a third-party to arrange the trip and within weeks the pair were boarding a flight bound for Bangkok.
"The IVF clinic in Bangkok was well furnished and done up like a hotel, doctors were patient and nice, and we had an interpreter with us all along the way," he says.
Huang's wife is now pregnant and their child will be born in May.
Moreover, the trip turned out to be an enjoyable holiday too.
"Apart from the time at the hospital, we traveled around the city enjoying local gourmet food, shopping and spending time at a spa," Huang says.
They reckon that the 150,000 yuan ($23,303) they spent on the holiday was money well spent, particularly because after they returned they learned that Huang's wife will be having a baby in May.
This couple's story mirrors those of other Chinese mainlanders who, with a lot of money to spend and highly conscious of the need to stay healthy, are heading overseas as they combine relaxation with medical care.
China's biggest online travel agency, Ctrip, reckons that 500,000 Chinese made such trips in 2016, five times more than in 2015.
They are generally healthy but keen on having advanced medical examinations in addition to undertaking the usual kinds of tourist activities while they are away.
Hong Kong, Thailand and Japan are among the most popular destinations for these travelers, says a Ctrip spokesman, Peng Liang. Each tourist spends between 5,000 yuan and 50,000 yuan on their trip, he says.
Most of the health tours feature medical checkup, oral care, anti-aging, detoxing, blood purification, cosmetic medicine and severe illness consultation and treatment services.
Chinese have been warming up to medical services in countries that have developed their own medical and health tourism products with their own core competitiveness.
For these tourists, Japan's proximity and advanced healthcare have made it a popular destination. The country began offering medical visas in 2010, and local travel agencies began developing routes integrating hospital visits with attractions and shopping three years later.
The number of Chinese who visit the country for medical checks annually is expected to surpass 310,000 by 2020, and the market value may reach $4.6 billion, a report by the Development Bank of Japan says.
Japanese hospitals are less prone than Chinese ones to be overcrowded, and many are located in or near shopping streets, so tourists can enjoy leisure time nearby while waiting for test results.
The country's hot springs and tours that take in Mount Fuji are also sold through advertising that vaunts the sites' therapeutic benefits.
Shenzhen Comfort Travel Agency says it took about 50 people to Japan for medical checks last year.
"Most were middle class and aged between 40 and 60," says Lin Hua, sales consultant with the agency.
Most said they were unaware of having health problems but wanted checkups because of concerns about stress and pollution, Lin says.
Many were also keen to have early cancer and cardiovascular disease detection tests.