A frosty reception? Well it is made of ice!
Share - WeChat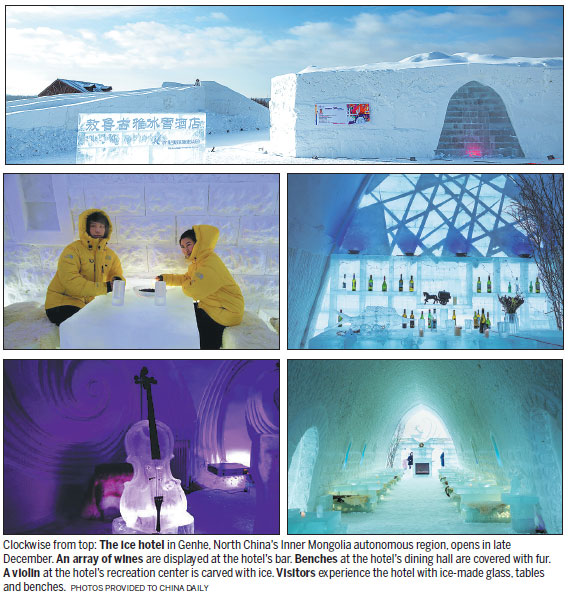 Romantic souls wishing to experience the wonder and amazement of Elsa and her ice palace in the Disney hit animation Frozen may just yet have their dreams come true with the opening of a real-life ice hotel.
An actual real-life ice hotel, the first of its kind in the country, opened in the Olguya Ewenki nationality township in Genhe, North China's Inner Mongolia autonomous region in late December.
In the language of the Ewenki ethnic group, Olguya means a place of lush poplar forest. The Ewenki people living there still preserve the traditional of hiking in the Greater Hinggan Mountains and keeping reindeer.
The ice hotel makes use of roughly 1,500 metric tons of ice and snow, and now covers about 1,000 square meters.
Those wishing for a chance to sleep within the icy dwelling have until the end of February to make their booking, before the whole building melts away as the warmer weather arrives in March and May. The operators say that the ice hotel will be rebuilt in the following winter.
Currently, the hotel has 10 artistically hand-carved suites ranging from 10 to 15 square meters. It also has a recreation center, reading room, bar and dining hall.
The temperature in the suites is a frosty - 5 C.
Almost all internal facilities, including beds, tables and decorations are carved with ice.
However, those fearing frostbite are protected with moisture-proof pads, reindeer pelts, warm sleeping bags and thermal clothing.
The hotel has absorbed the building techniques used in making Nordic buildings and integrated local ethnic elements, designers said.