Winter sports spur holiday spending
Share - WeChat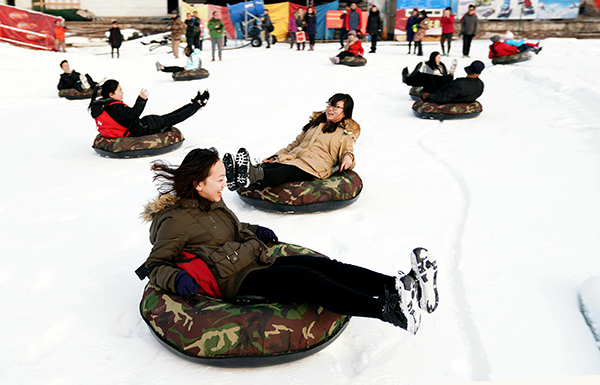 More than 2.6 billion yuan ($400 million) was spent on dining, entertainment and shopping in Beijing during the New Year holiday, with the "white economy" becoming a new growth point.
With excitement rising over the city's hosting of the 2022 Winter Olympic Games, many used the three-day break to try out the ski slopes in the capital's outskirts.
"We love sports, and the upcoming Winter Olympics has really raised our interests in winter sports," said Li Lei, who spent the holiday with three friends at a ski resort in suburban Miyun county.
He said the equipment and services at the resort were advanced, while the group stayed at a cozy hotel with good restaurants.
To meet the growing demand for winter sports, the Beijing Skiing Association, resorts and sports goods companies organized ice and snow festivals to promote their services and products over the holidays.
Established ski resorts in the capital's Huairou, Pinggu and Miyun counties were full of people day and night, while many parks, including around the Bird's Nest and Chaoyang Park, held skating or skiing activities to entertain the public.
The combined revenue of 60 key commercial services companies reached 2.67 billion yuan between Saturday and Monday, representing growth of 10.5 percent compared with the same period last year, according to the Beijing Commerce Commission.
The commission did not provide a detailed breakdown of the revenue from winter sports - the so-called white economy - but said it had become a new consumption hot spot.
According to a report from the China Tourism Academy, the domestic winter travel market over 2016 and 2017 was worth 270 billion yuan. This is forecast to expand to 670 billion yuan in 2021 and 2022.
"The output value of the winter travel and related industries will reach 2.88 trillion yuan" by the time Beijing and co-host Zhangjiakou in Hebei province welcome the Winter Olympics, the report added.
Li Xiaoge, chairman of the Beijing Skiing Association, said the existing ski resorts and winter travel destinations across China cannot meet the booming demand, which means more will likely be built in the coming years.
Beijing has 22 indoor and outdoor ski slopes, according to the association.
Traditional retail companies in the capital saw their New Year's sales grow more than 20 percent compared with last year, according to data from the commerce commission.