Rural Taobao brings e-commerce to the countryside
Share - WeChat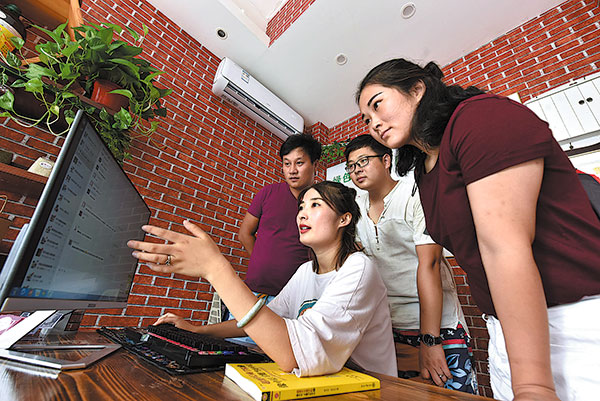 A college graduate (center) from Anhui province shares her startup business experience with visitors. The farm owner joined the Rural Taobao initiative in 2016. GE YINIAN/FOR CHINA DAILY
Almost half of China's 1.3 billion population still live in rural areas. While incomes are growing, some rural residents still lack the employment opportunities and everyday products and services that city dwellers take for granted.
Alibaba sees this as a huge unmet demand.
Through its Rural Taobao initiative, the tech titan is helping to raise living standards in the Chinese countryside by providing e-commerce access for millions of poorer residents. Taobao is Alibaba's customer-to-customer online marketplace.
With an estimated investment of $1.6 billion since 2014, the company has established nearly 30,000 Rural Taobao service centers across 700 counties in 29 provincial-level regions, enabling villagers with little or no access to the internet to order and receive goods that have previously been unavailable to them.
The project helped the number of online transactions in rural regions to reach 29.2 billion yuan ($4.41 billion) last year, according to the company, which added that 33 million people have lifted themselves out of poverty by becoming self-employed.
Gong Jianfei, who runs the service center in Lin'an county, Zhejiang province, helps villagers to source items online that are of better quality and at lower prices. She places 40 to 50 orders a day on behalf of buyers, with the goods delivered to the center.
"E-commerce is helping rural people to join the digital economy, and some of them even have started their own businesses online," she said.
The program has partnered with local governments to provide easier access to computers, while Alibaba offers training to villagers on internet searches and online payments.
The e-commerce giant is also working to get hundreds of thousands of mom-and-pop convenient stores in counties and townships online and equip them with the software that uses data analytics to predict sales and manage inventory.