Xiamen becomes seaside haven for artists, cultural industries
Share - WeChat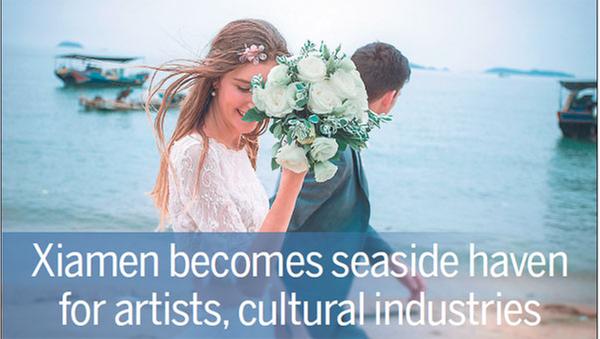 A couple have wedding photos taken in Xitouxia, a fishing village in Xiamen's Siming district.[Photo Provided To China Daily]
"Whether you come or not, the host is not there." That is the slogan of a store called Nest in Xiamen, Fujian province, which provides a sharing space for visitors to drink tea, read books, meet friends and kill time, all for free.
Along the narrow corridor of Nest reside shelves of old books and paintings. Walking up the even narrower spiral staircase, visitors will find a bright and broad roof with a wooden tea table, some fine china cups and several green bonsai.
"We have no product or service here. The guest is also the host," said Shao Ye, co-founder of the store.
He said since the store's opening in 2014, visitors have not taken anything away from the store. Instead, many of them brought tea, cofee beans and snacks to share with others. "A store without consumption makes tourists more relaxed and free. Xiamen is a city of civilization which can realize this idea," Shao said.
Xiamen has attracted many young people due to its romantic cultural elements and friendly citizens, according to Zeng Liangliang, a tour guide who has worked in the city for 12 years.
The piano museum on Gulangyu Island and the Furong Tunnel in Xiamen University, decorated with pictures painted by college students and the dancing team of the Xaobailu Art Theater, show a colorful city of culture and art, she said.
"Most of the tourists on my team were young people, along with some older people seeking a warm place to stay in winter," she said. "Ninety-five percent of visitors said they were satisfied with the trip."
Zengcuoan village, once a small fishing village dating back to the Qing Dynasty (1644-1911) near the coastline of Xiamen, has transformed itself into a gathering place for cultural creativity.
Along the narrow road, more than 1,200 creative cultural stores and hotels welcome more than 10 million visitors every year.