China's major tech breakthroughs
Share - WeChat The Jiaolong, China's manned deep-sea research submersible, Tuesday morning dived into the Mariana Trench, the deepest part of the world's oceans.
This is the latest of a string of major technological events that China has witnessed in the science and techworld over the past few months, including mining of flammable ice, maiden flight of homegrownlarge passenger jet C919, in-orbit refueling of cargo spacecraft Tianzhou-1, launch of the first domestically developed and built aircraft carrier.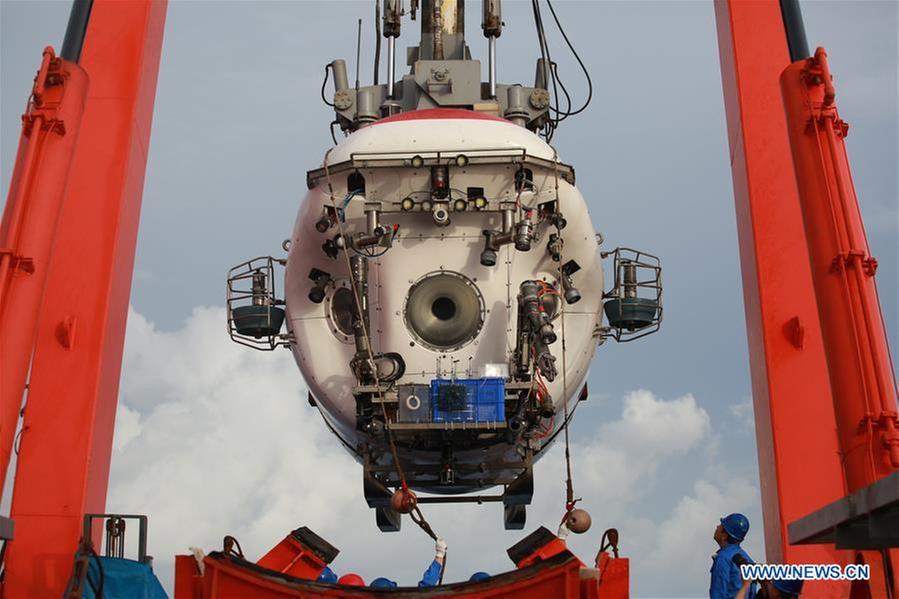 Submersible Jiaolong is about to dive into water in the Mariana Trench on May 23, 2017. [Photo/Xinhua]
Submersible Jiaolong descends to 4,811 meters in Mariana Trench
China's manned submersible Jiaolong finished a dive in "Challenger Deep" in the Mariana Trench, the world's deepest known trench, on May 25, 2017.
The whole dive lasted 8 hours and 50 minutes. During the dive, the submersible reached the planned depth of 4,811 meters, where scientists conducted observation, sampling and surveying, and collected seawater, rocks and samples of marine life, including a sea cucumber, a sponge and two starfish. The submersible also photographed the seabed.
The latest dive was the first of 10 dives planned for the third stage of China's 38th oceanic expedition.