Mobile apps for singing tap offline KTV for more users
Share - WeChat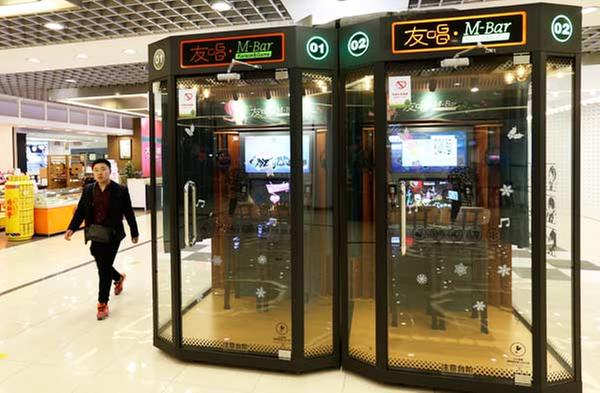 A man passes by two karaoke booths at Beijing Yintai Center in Beijing. [Photo by Feng Yongbin/China Daily]
In line with the popular online-to-offline mode adopted by many businesses, the mobile music industry wants online singing platforms to present services like bricks-and-mortar mini KTV bars as they strive to attract more users and seek new selling points.
"Extending the application of our product to more scenarios is part of our key work this year," said Mario Ji, vice-general manager of the QQ Music unit of Tencent Holdings Ltd. WeSing, a singing app developed by the internet giant allows users to sing, record and share songs with their friends online.
"We are striving to enable our users to experience the joy not only on smartphones, but also in other places, such as shopping malls, cinemas and restaurants. Mini KTV, in this sense, offers a good solution."
WeSing teamed up with mini KTV brand U-sing in February. Under the cooperation agreement, U-sing users can upload their songs to the WeSing platform, where they can listen and share with others.
The number of U-sings has increased significantly in less than a year, with more than 5,000 units running in 140 cities in 29 provinces across the country.
"Joining hands with U-sing can help us attract more users, as the large number of visitors brought in by mini KTV are likely to become WeSing users. In the future, we will deepen our cooperation by exploring more ways to integrate with each other," Ji said.
WeSing is one of China's biggest online singing platforms. Since its launch in 2014, the mobile app has attracted nearly 400 million registered users, with daily active users reaching 45 million on average, it claimed.
However, WeSing is not the only online platform that sees underlying opportunities from the new KTV. In February, Changba, another major market player, announced it would invest in Aimyunion Technology, a Guangzhou-based company which owns mini KTV brand Meda miniK.
"Integration of online singing platforms and mini KTVs not only satisfies diversified singing demand among consumers, but also helps enhance loyalty of the apps' existing users and attracts others, thereby promoting their profits," said Wang Chuanzhen, interactive entertainment analyst at Beijing-based consultancy Analysys.
The Chinese mobile music market expanded 42.5 percent over the past two years and growth was still accelerating, according to a 2016 report by Analysys.