China-much more than I imagined
Share - WeChat China Daily website is inviting foreigner readers to share your China Story! and here are some points that we hope will help contributors:

I try to speak but my tongue just sits there, heavy as lead in my mouth. The woman asks again: "Why are you flying today?" Why am I flying? Good question. My voice cracks as I squeeze an answer out. "I don't know, I don't know, oh God! I'm going to China, why am I going to China?," I whisper, as the thin films of salt water that had been welling quietly in my eyes all day escape, rolling down my cheeks in two single, helpless tears. The woman puts her hand on mine and tells me that I'm going to be fine, that I'm going to have the time of my life, that this is an experience I'll talk about, think about and appreciate forever.
I smile at her and I move on, dragging my feet towards the plane and towards the next six months of my life. The hours pass. At around 6am I drift off, an hour later the blinds come up. I'm awake and there is China, there it is right beneath me. The knot in my stomach begins to wriggle loose and finally, finally I'm in Beijing. I'm excited.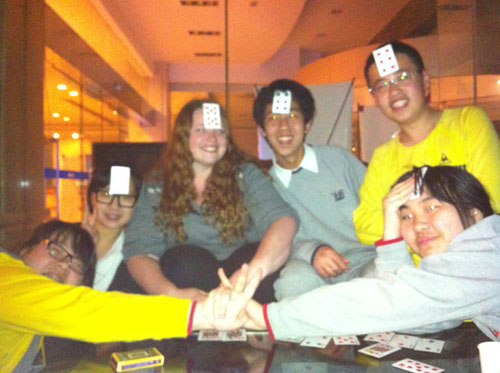 Leah Gasson plays poker with her students in Jinan, Shandong province in an undated photo.
I collect my bag and try to find the exit hall, where I'm due to meet the company that will train me up as a teacher before packing me off to a mystery location. It's easy – I just follow the other Westerners. There are at least fifty people with the group when I arrive and I fold myself into a corner, making conversation, finding friends. Eventually, we are led out into the street. Our conversations stop instantly as our lungs explode.
The cold hits like a sledgehammer, reaching through our skin, seizing our bones. We cry out and run to the sanctity of the waiting coach. The roads towards the city are six lanes wide and the drivers are maniacs. We bob, we weave, we hurtle our way towards the campus of the University of International Business and Economics, where we'll be spending the next two weeks living, exploring and feeling like a very dysfunctional, 150-strong family.
On our first night in the country we go to Wangfujing. It is a snack street like any other in the country, marked by a grand red gate. It is a sea of colour, of smells, of people. Steam wisps up from colossal pots, emulating the tentacles of the octopuses broiling within. Scorpions, star fish, sea horses, lizards, snakes – an endless array of exotic creatures are dipped into pans dancing with pungent, dirty fat and served to the more adventurous eaters. The chefs call out to us, they play with us. Here is where I have my first lesson in what a welcoming race the Chinese are – so excited to see us, so full of smiles. His wife giggles, the deepening creases in her face outlining each time he's made her laugh before.
The two weeks pass in a blur of classes, temples and language struggles. Suddenly, its half way through February and my friend Ish and I are on a train bound for Jinan, the capital of the Shandong province. Our first two nights in the city are spent feeling lost, lonely and inept. There is no Metro system, only buses. We don't know where town is, we can't explore because we don't know how to get back to where we live. We don't know anything. We go to the supermarket and the staff follow us around, curious. Everyone stares, everywhere we go. We retire like hermits and wait for Monday to roll around.
The first day of work hurtles towards us like a freight train. We wake at 6am and find the bus. There are four other English teachers and they don't make much effort to talk to us. My nerves grow with every passing minute of the hour long journey to school. We arrive and are ushered into the International Centre, where our boss greets us like old friends and works to make us feel as welcome as possible. We're shown to the Reading Room – this is where we'll spend our days. Its walls are made of glass and as we settle in one of the English teachers pokes his head through the door. "We call this the fish tank," he says, "you'll see why when the bell rings." The bell rings. A hundred and fifty teenage faces peer in.
The kids become our closest friends. They fill their lunchtimes talking to us and they use up their free time to act as our tour guides. On our second weekend in Jinan we are collected by two fifteen year old girls who show us how to navigate the city, where to eat, what to do, how to cross the road… A month passes, two months, three months. I've come back to Beijing for the weekend to visit my friend. I use my limited Mandarin to barter in the silk market. I buy more panda souvenirs than I can carry. I get in taxis and reel off the addresses effortlessly. How did this happen? How did China become so easy?
When I arrive back in Jinan I head out of the station and towards the K51. I pass a group of teenagers who gesture at each other, poorly disguising the fact that they're talking about me. I'm used to this in England and clutch my handbag closer, half assuming they are going to try to steal my phone. Instead they shout hello and wave and I feel like an idiot. When I get to the bus stop everybody tries to help me. Shandong people are known for their friendliness and they really never let themselves down on that front. I downplay my bus taking proficiency levels – I don't want to disappoint anyone, so I let them help me on and I smile and thank them when they call out my stop and I cross the road with little hesitation and marvel at the adaptability of humans.
China is as different to my world as it is the same. I have Tesco here as I do in Bethnal Green, but instead of cheese it sells chicken feet. The students I have are as interested in music, films and Brad Pitt as anyone I know back home, but they're also thrilled to be learning. They are the most hard working and gracious people I've had the pleasure to meet, and I spend half my life here in awe. Everything the lady at the airport said was right. I'm fine, I'm better then fine. Life is great here, I love every day. She was right about time, as well. It's flown by, quick as a flash. I have just a month left at school and I don't quite feel the exultation I'd expected. I don't want to leave my students just yet, I'm not quite ready.
Leah Gasson is a twenty-five year old English teacher working at the Jinan Foreign Language School in Jinan, Shandong.
[Please click here to read more My China stories. You are welcome to share your China stories with China Daily website readers. The authors will be paid 200 yuan ($30). Please send your story to mychinastory@chinadaily.com.cn.]