Teaching in China
Share - WeChat China Daily website is inviting foreigner readers to share your China Story! and here are some points that we hope will help contributors:

It was my first day in China. I stepped off the plane at Nanchang airport and was greeted by a man holding a small cardboard sign with the name "Brendan O'Reilly" written in black marker. I approached him, he shook my hand, and then he led me to a car. We quickly realized we would say nothing to each other but "hello", "ni hao", and "Ok". Still, he was very enthusiastic and friendly. I had a good feeling.
During the hour-and-a-half journey to Jiujiang I was struck by how much the countryside looked like my native Washington State. Hills and evergreen trees graced the lush landscape. However, Washington State would rarely be so warm in September.
My driver played loud, upbeat techno music. The English chorus of one song was particularly interesting:
"The Devil, the Devil, I am the Devil!"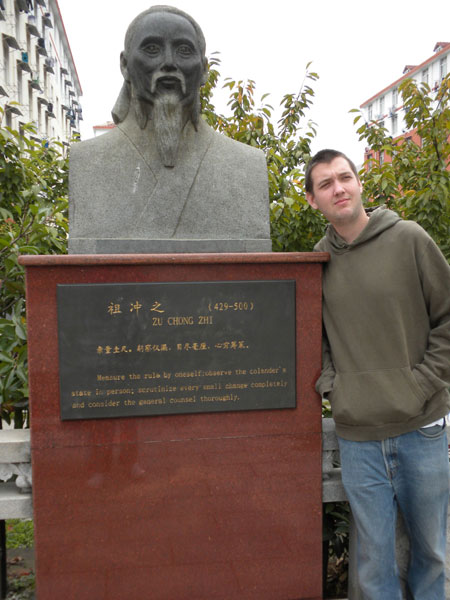 Brendan O'Reilly poses on Jiujiang University's campus. [Photo provided to chinadaily.com.cn]
I decided not to let these colorful lyrics bother me. When we got to Jiujiang University my driver bought me a huge dinner and took me to my new home. I was surprised at how spacious my new living quarters were.
The adjustment to life in China took some time, but it paid off tremendously. The friendliness and generosity of the Chinese people have graced every day of my nearly three years in Jiujiang. One example of Chinese hospitality was particularly appreciated - I received salary from my university before I even taught my first class!
The best part of my time in Jiujiang has been working with my students. When I was very young I enjoyed pretending to be a teacher with friends. Teaching English in Jiujiang University has let this childhood dream become a reality. My students are enthusiastic and eager to learn. Their energy and unique perspectives constantly surprise me. They help me feel comfortable and confident as a teacher, and their smiles brighten my life.
I quickly learned that China bares little resemblance to the image many Westerners have of the country. Daily Chinese life is not rigid and orderly - especially the traffic! Furthermore there is a great diversity of Chinese people. China's people come in all shapes and sizes. They speak a huge variety of languages, and have a wide range of beliefs. Indeed, in downtown Jiujiang I can walk from a Buddhist temple to a Catholic church in three minutes, and a big mosque on the river is only ten minutes from the church! The Chinese people have a wide range of opinions and experiences, and they are not shy to share them.
After living in Jiujiang for a year, I felt as if I had won the lottery. The food was delicious, the people were friendly, and I truly enjoyed my work. Because it is a small city with few foreigners, Jiujiang was a great place to begin learning Chinese. Furthermore, the countryside is simply gorgeous - from the Yangzi River to the peak of Lushan Mountain, Jiujiang is graced by some of the most verdant and luscious landscapes I have ever seen. There were also many interesting historical and cultural places, such as Yan Shui Ting and Donglin Temple.
I should take a moment to try to explain my love affair with the culinary delights of Jiujiang. The food in this city is simply stunning. The range of textures and flavors boggles the mind. I can feast on a variety of street food for a few kuai. Deep-fried pickled turnip pancake (萝卜饼,luo bo bing) is a local delicacy that is easy on the wallet at one kuai apiece. In restaurants my favorite foods have been Sour Vegetable Fish ( 酸菜鱼,suan cai yu), Homestyle Tofu (家乡豆腐, jia xiang dofu) and Three Earth Treasures (地三鲜, di san xian), a dish made of fried potatoes, eggplant, and peppers.
Of course, I have tried some typically-exotic Chinese dishes. Three years ago, I never would have imagined myself eating freshwater snails and sautéed turtle. I certainly would not have imagined myself enjoying them as much as I have!
My only complaint about Jiujiang would be the weather in the winter. It is, unfortunately, just like the winter weather of my hometown, Seattle. In other words, cold and constantly wet. The difference being, the buildings in Jiujiang have no central heating. On the other hand, some foreigners (including foreign students from Africa) complain about Jiujiang's hot, humid summer. I myself welcomed the opportunity to sweat away some of the excess fat that Jiujiang's delicious food had left on my body!
My main goal in coming to China was to learn some Chinese. I am happy to report that, with the help of my friends, coworkers, and of course Jiujiang's taxi drivers, I can now have a fairly interesting conversation. Of course, the first words I learned were the names of different foods. I still remember my thrill the first time I said "dan" for "egg" - and the woman selling wraps gave me one with an egg!
It took me about eight months to master the Chinese words and phrases needed to answer the most common questions a Chinese person asks when meeting a foreigner in China:
1) What country are you from? (America)
2) How long have you been in China? (Five months, one year, two and a half years, et cetera.)
3) Are you married? (Not yet)
4) What's your salary? (About five thousand. No, not dollars! Renminbi.)
5) Can you use chopsticks? (Yes. Yes. A thousand times yes!)
6) Do you like Chinese food? (Of course. Everyone in the world likes Chinese food.)
Now I can have more complicated discussions about culture, history, and, of course, food. I can read about two thousand characters. I just found out today that I passed Level Three of the Hanyu Shuiping Kaoshi (a Chinese language test). Many Chinese people and foreigners share the idea that Mandarin Chinese is extremely difficult to learn, and it is - for the first few months. However, once you get used to the sounds and the tones, the grammar is surprisingly easy, and the vocabulary is quite logical. Take the word "computer" for example. Dian means electricity and nao means brain, so, of course, a dian nao, or an "electric brain", is a computer!
I plan to move to a city in Guangdong province in the fall. I will be happy to further explore my life in China, but at the same time my heart is heavy to be leaving Jiujiang. This city has given me so many delightful memories and wonderful opportunities. I have had the chance to further my career, enhance my language skills, and make lifelong friendships. Jiujiang, I thank you from the bottom of my heart.
This is not a "goodbye". Instead, I want to say "zai jian". We will meet again.
Brendan O'Reilly is an educator from Seattle.
[Please click here to read more My China stories. You are welcome to share your China stories with China Daily website readers. The authors will be paid 200 yuan ($30). Please send your story to mychinastory@chinadaily.com.cn.]